Address: 82 Gladstone Rd, Parnell
Ph: (09) 369 1882
Cuisine: Modern casual
From the menu: Skewers all $10 - Broccoli and chilli, Lamb and almond, Ox tongue and artichoke, Cured kingfish $18, Spatchcock $34, Short rib $24, Charred cos $6, Washed rind cheese $10, Ember baked apple $10
Drinks: Fully licensed
Rating: 8/10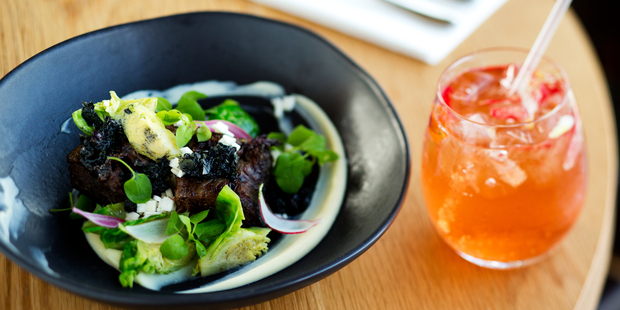 Rosie, Rosie, Rosie, you're as pretty as a posy. Perched on a corner site in a genteel neighbourhood in Parnell, the newly refurbished Rosehip cafe was already abuzz with a near-full dinner service when I visited, even though this was only its first week of operation. Seems the locals have been hungry for this, another of the Hip Group's ventures, to re-open.
The design is same-same but different by which I mean the feel is effortlessly stylish, like their other all-day eateries - St Heliers Bay Bistro and Ortolana - but Rosie feels more playful and softer somehow. Seating is a relaxed assortment of sturdy chocolate brown woven leather chairs punctuated by a mix of colourful coiled rope ottomans which seem highly impractical until you actually plonk yourself down on one and realise they're pitched at the perfect height and firmness to still be able to sit with some semblance of elegance and comfort. Design that's clever and delightful, we like that.
Rosie's menu is typically short on descriptors and you'll likely as not find ingredients, meat cuts and techniques thankfully not on every other menu in town - parson's nose, pork collar or charcoal biscuits anyone? It is set out with no headings for starters or mains or anything so pedestrian, instead dishes are grouped and the prices tend to be the best indication of how large or small they might be.
In general, Rosie knows how to treat you as a grown-up, leaving you to make your own choices about what to eat and in which order. It's refreshing.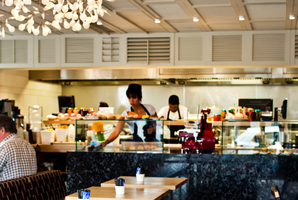 We started with skewers; soft leaves of ox tongue, shaved thin as tissue, threaded on sticks and served with a jerusalem artichoke puree lending its sweet musky tinge and a herbaceous green salsa livening it up. On another set of skewers, perfectly blanched then chargrilled broccoli was brilliantly set on fire with a chilli sauce - but missing in action was the promised preserved lemon. The lamb sticks made us grin and dribble with their succulence and the tzatziki had just the right degree of sharpness.
We moved on to a delicate plateful of cured kingfish, salty and sweet, dressed beautifully with slivers of radish, fennel and a squeeze of lime, bursting with freshness and flavour.
What I love about the Hip Group menus, and Rosie is no different in this respect, is that they are designed so that the dishes are loaded with grains and vegetables and are all perfect for sharing but also work just as well if you want to keep them to yourself, which we did with our next "course". The spatchcock was one of the best I've tasted - skin blistered from the chargrill, smothered in a gorgeously sticky chilli sauce and served with kale and crispy sweet potato chips on a bed of nutty spelt.
Some diners don't like to pick around bones when they're eating out but I'm all for it and Rosie's spatchcock was meaty and moist and well worth the effort.
While I was busy not sharing my bird, my dining partner was doing that same with his meal - a glistening, dark piece of short rib so meltingly soft and intensely rich in flavour that it might have suffered from being too heavy but for the genius of head chef Mikey de Vries in pairing it with a pile of meticulous squares of crispy celeriac and sprightly brussels sprouts. Both dishes were dazzling, as was the side of charred cos and pecorino - I'm liking this trend around town of charring chunks of lettuce.
Desserts were like a mixed bag of lollies - some we loved, others we'd have happily given away. A washed rind cheese was wonderful served with comb honey and figs but the charcoal biscuits didn't work for me. Either they were undercooked or I've yet to develop the taste for them.
An ember-baked apple dessert looked incredible served on a plate like a shimmering swimming pool but the apples were doughy and tasteless. Next time I'd punt for a sweet treat from the cabinet of Milse creations.
Rosie may be part of a larger group but it's plenty perfect enough to stand on it's own merits. As I looked back from across the street to the soft glow of the dining room in full swing, I couldn't help but think that Rosie was just what the evening dining scene in Parnell needed.
- VIVA