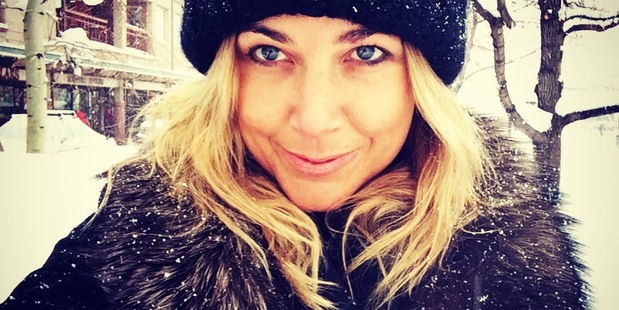 NADIA JUDD, Owner, Bersantai Villas, Nusa Lembongan, Bali
Your last trip?
Last month I travelled to North America visiting friends; first stop was Aspen, Colorado for snowboarding. I was there for the biggest snowstorm in 20 years, 24 inches in 24 hours! Then waking up to full bluebird-sunny days, loads of snow and no queues for the lift lines! I loved the people; Americans are so friendly and genuinely interested in your story.
I loved the food - everywhere I went I could find quinoa, almond milk and get my hands on a kale juice! There are loads of yoga studios to choose from, I found the Hot Studio there amazing, right next to the studio is a Chinese massage place that sorts out all your aches and pains from long powder days. There is a lot of wealth there with private jets, celebrities and fancy shops. We did a little bit of hiking but I would love to get into more of that next time.
After Aspen I headed down to the Bahamas to stay with a friend in a 60ft catamaran.
We stayed in Lyford Cay, a gated community. The properties were gigantic, each with private boats, butlers, chefs, housemaids and personal assistants. I have never experienced anything like it! We went stand-up paddle boarding and boating most days. We did a lot of cooking, eating and, of course, rum drinking.
My friend took me to Gambier (the ghetto) one night to meet some of his local Bahamian friends and see how they ride their dirt bikes like "12 o'clock boys". It's pretty dangerous; with drugs and unemployment; all the really poor local kids were playing football barefoot in the dirt while the sun sets. The contrast between rich and poor was really prolific, in Nassau people are shot and killed all the time, it was a real eye-opener.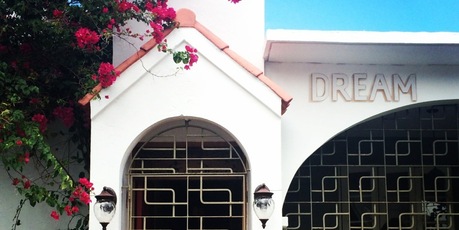 Your next trip?
Recently I was in Puerto Rico and ended up in a forest staying in a tipi with my girlfriend Amanda. Her father is a shaman. The experience transformed me on a number of different levels. Since then I have been studying and reading a lot about this ancient medicine and a guy named Graham Hancock has really inspired me.
I'm shooting to Perth at the end of May for his seminar on human consciousness. He's got some radical philosophies. I am super-excited to get down to the Amazon and Brazil to learn more about this powerful medicine and meet some more shamans or ancient medicine men.


Favourite Bali spots:
I love going to Desa Seni for a morning yoga session with my guru Daphna, followed by lunch at my friend's cafe Betelnut in Canggu. There are loads more but you will have to come and visit to experience them all.


What's always in your carry-on?
Weleda Skin Food, magnesium tablets and ginger tea.


Beauty and fashion travel essentials?
Coconut oil. YSL Radiant Touch highlighter. Comme des Garcons fragrance. My Acne boots and leather jacket always come with me. Julian Danger beanie.


Book or Kindle?
Book, so you can pass it on when you're finished. Right now I'm reading Beauty from the Inside Out by Dr Libby. My girlfriend gave it to me. My diet is mostly plant and fish-based, I don't eat land animals. I have a few of her cookbooks, I would highly recommend them if you are keen to get into eating clean.


Best flying tip?
I swear by fresh ginger, it's super-grounding and anti-nausea. The best is carrot and ginger juice. It's what saved me on a 43-hour flight from Puerto Rico to Bali. If you can't get fresh juice, buy ginger root tea and drink it on the plane. Also, magnesium tablets! Get an aisle seat to avoid the awkward "excuse me" climb over. Move around the aircraft as often as possible. Stretch! Always be prepared with noise-cancelling head sets and a hydrating face oil. I love the Grown organic one.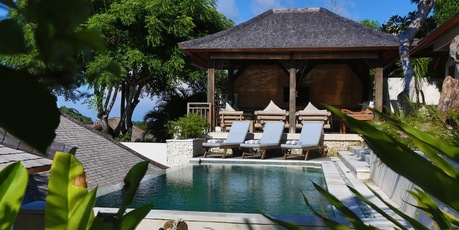 Your favourite hotel?
My place of course! Bersantai Villas, Bali. Bersantai faces north across the surf breaks. We have all the modern luxuries, three pools, killer views. Stand-up paddle boarding, diving, fishing and yoga at your fingertips. It's heaven! There is no place like Bali, that's why I choose to live there.
A standout place I visited recently was Surf n Sun, Arugam Bay, Sri Lanka. Unreal! After 25 years of civil wars and a tsunami people think it's dangerous. But it's pretty chilled in "A-Bay" - I went last year with nine of my friends and we had an amazing time. And Dreamcatcher in San Juan, Puerto Rico: full of beautiful people, art, amazing food, hammocks and dreamcatchers. Heaven!


Most memorable meal?
I love to cook and I love to eat, so where do I start? I think the most memorable was in South Africa on safari in a private game reserve. A native ranger came to my room with a gun and told me I had to be escorted to the fire pit for dinner as there were wild animals running around and they could smell the feast.
We sat in a fenced area that was lit with bamboo fire torches to keep the animals away. Asian cuisine is my favourite. My kitchen in Bali is full of fresh fruit and herbs. I love turmeric, ginger, garlic, lemongrass, chilli, fish, tofu, nuts, legumes, red rice and making curries. I'm always cooking something healthy or juicing something. My friends call my place "detox island".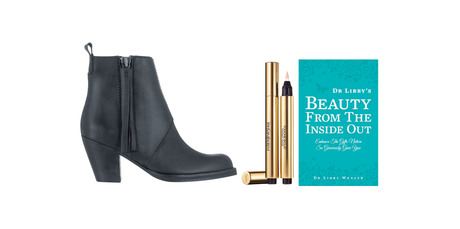 NADIA'S TRAVEL ESSENTIALS
Acne boots, about $765, from netaporter.com.
YSL Touche Éclat $76
Dr Libby's Beauty from the Inside Out by Dr Libby Weaver


- VIVA