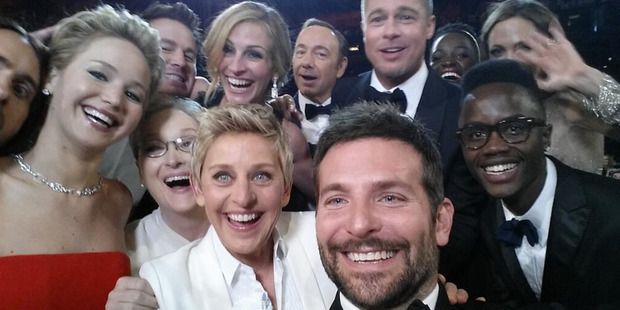 I've been going out a bit, and that means selfies. Selfies at the theatre, selfies in the restaurant, selfies taken in the back of the car.
I don't know when it was exactly that taking iPhone photos of myself and my companions became an essential component of any night out, but these are the times we live in now. Parties, dinners, weddings even. There's no event that can't be selfie-d.
I haven't seen one from a funeral yet, but that probably just means I need to broaden my Instagram feed out.
I'd try to tell you I've been resisting the temptation to selfie until quite recently, but I'm sure you won't believe me, and indeed, scrolling through my photo album I can see that as far back as last winter, I was already pulling a damn good duckface and stretching the long arm out.
That was on an especially glam occasion, in fairness, I was all dressed up for a photoshoot, and I had an understandable urge to capture myself in professional makeup. But I've got no excuse for the ones I've been taking recently - a succession of photos of my own face, taken by me, purposely, in close-up.
Such narcissism. It's inexcusable, when you see it written down. No matter who you are, what need does the world have, of photos of you, taken by yourself, on your own phone? "Electronic masturbation," Karl Lagerfeld called it recently. He's bang on the money.
I say this even though I've taken to the masturbatory practice with all the gusto of a 15-year-old schoolboy. I can't seem to stop myself. I'm worried I'll strain my wrist, such is the level of angling, and snapping, and posting and tagging I'm doing daily. High-up, low-down, close-up, landscape, I've tried it in every position imaginable. I'm posting up to five times a day. My eyebrows ache from continuous arching, and my lips are sore from pouting. My selfying is out of control.
I know how this happened. It started when a friend from Ireland came to stay 10 days go. It was while I was showing her around that I really got into it, the selfie urge is legitimised somewhat when you're showing off New Zealand to someone who lives thousands of miles away.
Not that the beautiful landscape plays much of a part in my photos. Tongariro, Wellington Harbour, Silo Park in Auckland. I took selfies of us all over the North Island, at such close range that we may as well be standing in the back of a wardrobe for every single one.
Still, she's got them for Instagram and Facebook. She may not be able to show off New Zealand, but her friends will all get a good look at me close-up. She's going tomorrow, just when I'm starting to feel a bit queasy from looking at my own reflection.
Selfies aren't about scenery, they're about self-gratification, and too much of a good thing can be bad for you. Karl's right about this one.
- VIVA