From the depths of the cellar or straight off the shelf, Jo Burzynska samples some pinots that beguile now and decades down the track.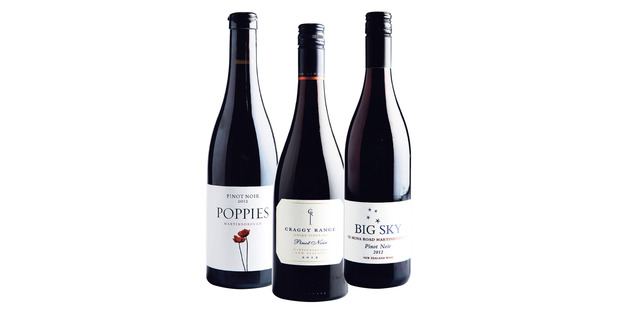 As another birthday looms, like many, I'm hoping that the coming year sees me ageing gracefully rather than starting a decline into decrepitude. The ageing process was something I was also reflecting on earlier this month, when presented with one of the most extensive line-ups of older Martinborough pinot noirs to be tasted in recent years.
If my own journey into maturity was to follow the path of any grape variety, it would most probably be that of a great pinot noir. In their youth they're often flushed with pretty fruits and florals, then with age become pale and interesting, developing more complexity with time.
Benchmarks from the grape's heartland of Burgundy show the best can age for decades. The oldest I've been lucky enough to try dated back to the 40s, a sprightly septuagenarian sporting fascinating layers of truffles, spice and forest floor, while still displaying the fruit sweetness that marks a wine with life still left in it.
Burgundy has been growing pinot noir for possibly as long as a thousand years and has decades of bottles in cellar, showing its often majestic maturity.
Here in New Zealand the vine only really took root in the 80s, with not a great deal of earlier pinot still in circulation.
As Martinborough was the first New Zealand region to get serious about pinot noir, it seemed fitting that it was here that our Wine Writers of New Zealand group gathered for a very special blind tasting of venerable bottles. Presented by veteran winemakers, Escarpment's Larry McKenna and Palliser's Allan Johnson, we sampled examples from 1996 to 2003.
Though the vibrant fruit of New Zealand's pinot noirs beguiles in their youth, in the past this has faded after five years in many, with little interesting aged characters evolving in their place. If New Zealand's pinot noirs are to be viewed as world class, some suggest they need to show that they possess longevity and can improve with more extended cellaring.
As tastings that bring together so many older bottles are rare, none of us knew what we were going to find. I was fairly hopeful we'd find a fair few options, given the structure that tends to characterise wines from the region. However, after tasting through the flights I was blown away by what a lively bunch they were.
From the oldest wine - a 1996 Ata Rangi, which was still holding in there - to the 2003s - of which the likes of the Martinborough Vineyard Marie Zelie was looking extremely fresh and youthful - most still displayed some sweet fruit. A decent number also had the bones and depth to hold them in good stead for quite a few years yet.
"The acids seem to have softened, the tannins were still quite alive and healthy but the most obvious thing to me was the developed fruit flavours and apparent fruit sweetness left in the best examples," notes McKenna, who was pleased by the way the wines looked.
"They've aged well, due in part to their concentration and good phenolic (tannic) structure," observes Johnson. "It depends on the vintage, but wines in a more red fruit spectrum along with the right tannin and acid structure have the potential to age longer."
As vines age and winemakers gain more experience, in a good vintage McKenna feels that Martinborough pinots have the potential to age even longer.
"Very conservatively we recommend five to 10 years in the good years," he advises. "They will last longer if stored correctly. But it's a very personal thing how much you enjoy aged wines and just how old."
Martinborough's pinots showed there was much to celebrate about maturity. I just hope that as I enter a similar period of middle age that I'm as fresh and lively as they are.


SOME CURRENT MARTINBOROUGH PINOT NOIRS TO ENJOY NOW OR LATER:
Poppies Martinborough Pinot Noir 2012 $55
There's old vine fruit in this pinot noir from a new label started by Poppy and Shayne Hammond who were previously from Dry River. It's fine, taut and fragrant with elegant black cherry and berry fruit infused with notes of anise and violet. Available at poppiesmartinborough.co.nz.
Craggy Range Te Muna Road Pinot Noir 2012 $42.95
Another intensely aromatic pinot with fabulous florals threading its well-structured palate that weaves together notes of pure cherry fruit, spice, mineral and savoury gamey undertones. Find at Glengarry, Caro's, Fine Wine Delivery Company, The Village Winery and Liquorland Newmarket.
Big Sky Martinborough Pinot Noir 2012 $35-$40
Gossamer-like in texture, this bright and lifted pinot combines beguiling notes of red fruits with hints of incense, smoke and mineral. Impressive. Available from Point Wines.


- VIVA