Address:
56 Brown St, Ponsonby
Ph:
(09) 360 0927
cocoro.co.nz
Cuisine:
Modern Japanese
From the menu:
Lunch set menu $45pp (a la carte prices in brackets); Snapper and Ora King Salmon sashimi ($14), Free range chicken karaage ($12), Wakanui beef eye fillet ($37), Grilled Antarctic toothfish ($35), Yuzu & miso cream brulee. Extras — vegetable tempura $9, Chilled buckwheat noodles $6
Drinks:
Fully licensed Rating: 9/10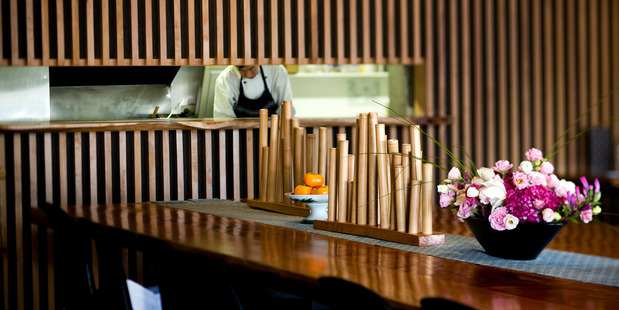 Lunchtime dining. I've not often put it in the same league as eating out of an evening. There's something about the evening that elevates and distinguishes it somehow.But our best restaurants are increasingly adding to their usual evening service by opening their doors in the daylight too, and I'm liking it. A lot.
When I walked into Japanese restaurant Cocoro from the glaring sunshine of Brown St, I sighed with relief. This restaurant is so beautifully arranged and sublimely designed that the sense of calmness is palpable - a perfect respite from a busy day.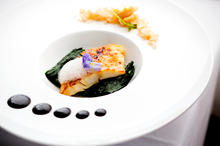 To make it even more easeful for us, the kitchen offered a set, short-course lunch menu that, once it began to unfold, seemed criminally priced at a low $45 a person.
Regardless of how often I'm reminded of the exceptional attention paid to presentation in Japanese cuisine, it never ceases to delight me when each delicate dish is placed in front of me. At Cocoro there are none of the ostentatious nonsense some Japanese restaurants are relying on to drown out the fact that they lack the subtle finesse required to attain the perfect balance of flavour required when using only a few simple components.
Two small bowls, mentioned on the menu as "welcome dish from our kitchen", marked the beginning of chef Makoto Tokuyama's sequence of exquisite dishes. Too pretty to eat. Almost. We set upon each like hungry wolves, the only thing slowing us down to match the gentle pace of the place were the slender wooden chopsticks.
In one dish lay a soft and tender piece of octopus, purple, white and beautiful on slices of pickled cucumber, thin as butterfly wings. In the other lay two perfect cubes of dense, dark tuna with a tiny wedge of brined turnip.
Next came a plate with precise and graceful slabs of Ora King and line-caught salmon, screamingly fresh and put together with a simple dressing laced with sesame, citrus and soy, intricately chopped chives and who knows what else to make it sing with zing. Chicken thighs are prepared karaage-style in the lightest crumbed crust, deep-fried but with no hint of excess oil, and a creamy ginger sauce. A small purple, edible pansy was in there, too.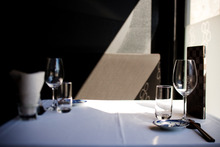 We'd ordered a couple of dishes outside our set menu and I was pleased we did - they were too gorgeous to miss; a bowl of chilled soba noodles with crisped nori came with a lacquered tumbler full of just-warm, gently flavoured dashi and soy to pour over the buckwheat noodles. This was so simple yet unimaginably fulfilling. A plate of vegetable tempura, with the crisp whisper of lace-like batter, took full advantage of seasonal ingredients with a clever slice of fresh sweetcorn, zucchini flower and new season kumara.
The lunch menu gives you three choices for main dishes and, surprise, surprise, we skipped the tofu option in favour of the Antarctic toothfish and eye fillet.
When each plate was put in front of us the sheer beauty of the arrangements nearly made me weep. When I took my first mouthful of the delicate fish - sweetly marinated in miso and grilled to soft perfection, enhanced with a pungent and refreshing citrus foam - I did weep.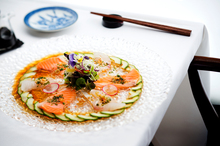 My dining companion was having a similar experience with her beef. She was silent for a long time while she worked her way around the various components of her dish - the tender dark piece of eye fillet, the smoky aubergine puree, the bean shoots, the exacting sprinkle of salt and pepper - and then she said "Wow, I keep discovering layers of more deliciousness".
Our final course arrived - tiny brulees with yuzu zest at the bottom of each silky custard and a sable biscuit so buttery and crumbly that it barely held together.
I've dined in some of Kyoto's revered kaiseki restaurants, where attention to every detail of preparation and meticulous presentation is paramount, as well as the more casual izakaya-style restaurants in Japan. How does Cocoro, even at lunchtime, measure up?
It's better.


- VIVA