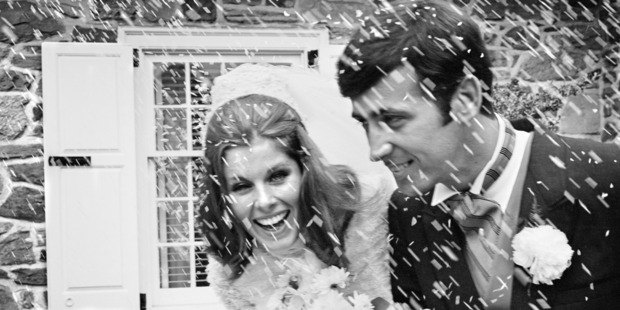 This past weekend I had the most fun at a wedding, since my own. The bride wore va-va-voom black, the groom was channelling early Vegas rat pack and the guests were ready to party like it was well before 1999.
Old club kids were reunited after 10, 20 and in a few cases 30 years apart. Madonna's Holiday got pretty much all of us - and a few of our children - up on the dance floor. But beforehand there were photographs, speeches and a cake cutting, in short the usual wedding palaver.
Figuring I'm unlikely to ever ascend to Dame-hood, I leapt at the chance of a title for the evening, namely Matron of Honour. Such an old biddy label demanded a proper updo and a pewter cocktail frock. The best man was having an electric blue satin moment all of his own, with a nod to Elvis.
This was an occasion 21 years in the dreaming, but pulled together mostly on the internet. The bride's vision of retro glam was booked online and details sorted in just a few days when the couple returned from the States to their old hometown of Christchurch.
Our outfits weren't really planned as an ensemble, but somehow it all came together nicely.
Up until a few weeks before the ceremony, I, along with most of the guests, thought what we had been invited to was essentially a cocktail celebration of a wedding that had occurred on the quiet when post-doctoral study took her to the States with her already long-time partner. What we didn't realise then, but came to know over the intervening years, was that to ease the immigration process they had first slipped away to a registry office.
This time round, they wanted to go public, but in their own way. The wedding they had always wanted, free of the weight of the expectations of others. No silly hen's night, frilly white frock, or obligatory invites to embarrassing uncles, just a coming together of the scattered friends and family that mattered then and now.
The turnout was impressive and the emailed "telegrams" from the handful who couldn't make it were full of regret at missing out.
Miss out they did indeed. After the heartfelt vows and tributes, a contingent from California burst into song. The bridal photographs were photo-bombed by a stray white fluff-ball of a dog. Music, laughter, love.
This splendid evening confirmed to me that the best weddings are those that express the character of the couple marrying and the affection they hold for each other and that others hold them in.
- VIVA