We're stuck on the latest feathery false lash looks.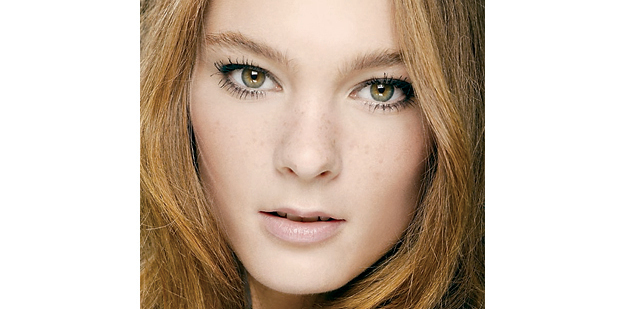 Butterfly kisses anyone? Softly does it now, with silky-soft false lashes. Sixties-inspired lash looks debuted on the international runways for spring and are now influencing wearers to choose longer, feathery lashes, rather than opting for more heavily fringed styles. Think a young Jane Birkin rather than Twiggy and most definitely nothing too drag-queen overly dramatic.
"The lash is the eye makeup," explains M.A.C's senior artist for Oceania, Nicole Thompson, who advises keeping shadows and colour to a minimum. "It's all about the lash line looking thick and full and gorgeous."
For newcomers to using lashes, Thompson counsels starting with a professional application and "how to" help. Once you have the knack of applying them yourself, you will understand why makeup artists swear by them as a quick way to transform your look. That's why celebrities making public appearances are seldom seen without them.
"Eyelashes are like the icing on the cake for your makeup," she reckons.


EXPERT EYE: Get the most out of false lashes with these tips from M.A.C's Nicole Thompson:
• Try an in-store application the first time so you can get advice and a good lash match for your needs and eye shape.
• Clear lash bases make for a less obviously defined lash line than lashes springing from a black base and are generally more flexible to apply. For an impressive 50s-style winged eye, stick with a black base to reinforce the impact of your eyeliner, but otherwise open up for a lighter look. Smoky eye fans note: the new way to wear them is lash-heavy and grunged up.
• Lashes are easier to handle in sections, so don't be afraid to chop them in half, or better yet thirds, before gluing them on. This also reduces the risk of lashes popping off or up, which can happen if you have a full lash not properly adhered along its length.
• A partial lash or just a few individuals placed in the outer corner may be all you need. Experiment with using a few lashes on the outer lower lashline, which can create the illusion of a smoky lower eye without the need for shadow here.
• M.A.C's most popular styles sold locally are #33 and #20 (half lash) and, for a heavier look but with a clear film, the #7. The #1 is popular in Asia, giving a heavier lidded, sexy, shorter, full fringe for doll-like eyes.
• Before you apply lashes, it is good to apply a light coat of mascara to your natural ones, especially if they are fair. Mascara applied over false lashes can look heavy.
• Using a lash curler before application ensures your natural lashes are all evenly aligned and lifted. This provides a better base for the false ones.
• Apply glue blobs to the back of your hand (or lash case lid) then run the lash base through this. Allow glue to dry for about 20 seconds, before applying the lash to your lid because this will give it more "tack" for sticking.
• Pick up lashes with tweezers if this proves easier than with fingers. A cotton bud can be used to push the lash gently into place on the lash line, or press lightly against the end of the lash.
• If you are using a wall mirror, it is better to look down into it, but with your chin up, as this keeps eyes stretched open. Trying to apply lashes with a closed eye leaves it more scrunched up and you run the risk of getting glue in the wrong places. If this is tricky, position a tiltable mirror on a bench to suit.
• If you place the lash incorrectly, it is easier to lift it off and try again than it is to reposition.
• It is okay to curl false lashes, but only if any mascara you might have applied is dry. Doing this with gentle clamps ensures your false and natural lashes look integrated.
• Lashes can be layered, so if you want a denser look use two half sets stepped over the top of each other.
• Applying a subtle V of matte brown shadow at the outer corner of your eye helps false lashes blend more naturally into your face.
• Re-use your lashes up to three or four times, but remove the old glue and especially any mascara from them for reasons of hygiene and for easier reapplication. Glue generally dries clear but is elastic so pulls off easily. Mascara needs to be dealt with using a not-too-oily eye makeup remover. Do not soak lashes.
Try these tools to get the latest feathery false lash looks: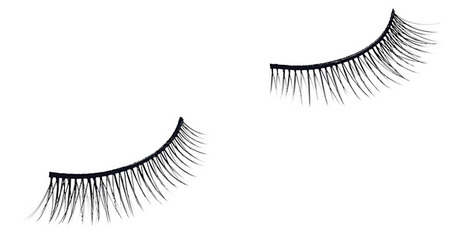 - VIVA