It's a festival that celebrates the mind, body and soul, and, discovers Rebecca Barry Hill, it's very hip.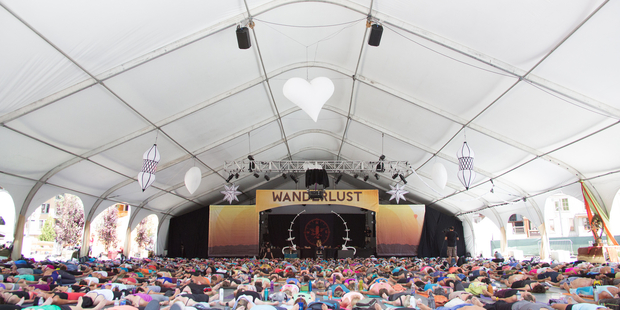 A few years ago, the idea of a yoga festival may have been laughed out of the city by hippie-haters. Now, it seems everyone's getting on the mat.
"We're not targeting left wing yogis and hippies," says Wanderlust in the City promoter and yoga teacher Jacque Halstead, who, with husband Jonnie Halstead (organiser of Coromandel Gold and Homegrown), is bringing the US franchise to New Zealand and Australia.
"We're dealing with a mainstream population of yogis. Plus there's live music and it's not just focused on yoga."
The multi-activity event is new Downunder, but huge in the US and Canada. Each year, thousands flock to a picturesque spot, pitch their tents and spend four days practising asanas, hiking, listening to mindfulness lectures, taking cooking classes and sampling wine.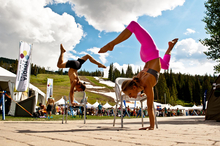 This year, Auckland gets a taste of the festival, with Wanderlust in the City coming to Western Springs on Sunday, March 23.
It's a free, one-day event (unless you want to pay to secure a spot in the yoga classes), with a few rock stars of the yoga world commanding the main stages.
The line-up features international teachers with veteran status, celebrity affiliations and/or outrageous twists on yoga.
Cameron Shayne, for instance, combines his yoga with martial arts and has taught the likes of Jennifer Aniston and Rene Russo. Claudine and Honza Lafond got their ripped physiques from bending into mind-boggling acroyoga poses.
The locals include CrossFit owner Darren Ellis, popular Auckland yoga teacher Nikki Ralston and superstar nutritionist Dr Libby. George FM's Aroha and Ladi6 are in the musical line-up.
The point of Wanderlust, says Halstead, is simply to make people feel good, creating a ripple effect through those around you. And the hope is that Wanderlust will inspire participants to incorporate small changes into their lives afterward.
If the launch event goes well, Wanderlust 2015 will evolve into the four-day event it is famous for.
"Wanderlust has a really cool vibe because everyone there is part of that friendly community. You don't need drugs or alcohol because you just feel so good. You're out in nature listening to inspiring lectures, feeling really motivated. You're on a natural high."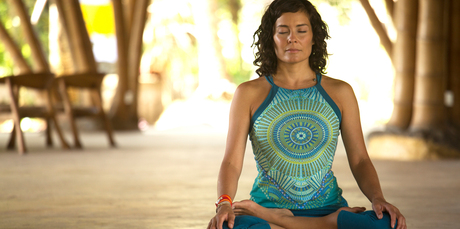 AMY IPPOLITI
One of the big names on the bill at Wanderlust in the City is Amy Ippoliti. Those who subscribe to yogaglo.com will be familiar with the Colorado-based yoga teacher's effervescent teaching style.
A yogi since the age of 16, Ippoliti has taught for 23 years.
"Wanderlust takes you out of the traditional, quiet yoga space, and into the community where there's art and music," she says on the phone from Boulder. "It's a yoga party in a lot of ways."
Ironically, it was a jaded view of partying that led Ippoliti to yoga in the first place. As a teenager growing up in New York's West Village with a rock musician dad, she was quick to tire of the all-night smoking and drinking sessions.
By the time her peers were getting into the same, she was getting her kicks from hard-core cardio workouts. One day, she and her mother signed up for a new yoga class offered at their local gym. It came at a fortuitous time, the introspective nature of the class offering respite from the mean kids at high school.
"Yoga started me on a journey of giving myself permission to be able to look into myself and ask larger questions about identity, which was important because I was starting to withdraw socially.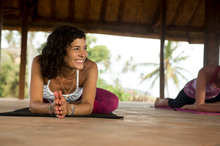 "A huge part of yoga is that journey inside, not just bending and flexibility."
She soon found herself drawn into the New York yoga lifestyle, pulling up a towel and doing poses alongside Isabella Rossellini (in the days before sticky mats). Eleven years into her practice she met influential yoga teacher Cyndi Lee; deciding she wanted to learn more, she signed up for Lee's teacher training.
"I was so nervous because I was 26 and I thought you had to be 40 to teach yoga. That was my perception of the culture back then. I told her, 'I'm not here to be a teacher'. She goes, 'Shut up. Yes, you are'. She believed in me."
Now, with more than 145,000 Facebook followers and a teacher training company of her own, Ippoliti says her practice keeps her grounded. As soon as you buy into your own hype, your yoga isn't working for you.
So, what is it about yoga that keeps its practitioners emotionally stable? Ippoliti says the act of pursuing any passion or art form has that effect, but the particularly special thing about yoga is its sense of community.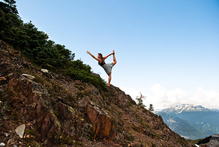 "You never feel alone. Plus the teachings help you live skilfully, so you make better choices for yourself. It's so much deeper than just the poses. The physical cherry on top is that you're more present in your body so you feel that beautiful, sparkly buzz after class.
"You're more blissed out and calm and peaceful and there's less tendency to fly off the handle. From there, you understand your place on the planet. It's just a recipe for happiness."
Even after all these years, Ippoliti continues to learn. The most challenging aspect is embracing herself as she ages and letting go of what she could do in her 20s and 30s.
A large part of her practice is also off the mat, through her work raising awareness for the environment. She and her partner, marine conservationist and photographer Taro Smith, were in a team that went swimming with manta rays and whale sharks.
"My hope is that people will see our images and feel inspired to believe in the interconnection between species. Because they need our help."
• Wanderlust in the City, Western Springs, March 23. See akl.wanderlustfestival.com for more info.


- VIVA