Zoe Walker visits the stylish apartments of creative New Zealander Valery Gherman.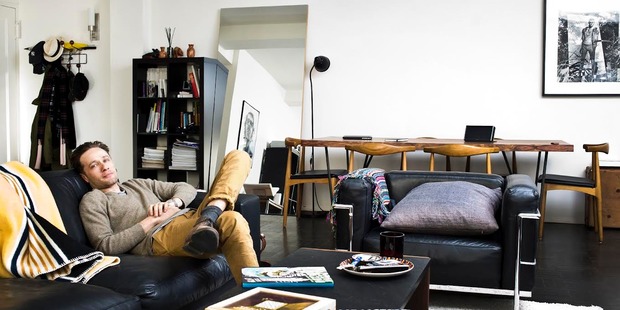 Makeup artist Valery Gherman has lived in Manhattan's famous Peter Cooper Village since 2009, sharing a two-bedroom apartment with a flatmate, the photographer Derek Kettela.
Built following World War II as a private housing community, the 32.3ha complex on Manhattan's East Side is a sprawling series of red brick apartment buildings, and is now home to lots of families as well as people who have lived there since the 40s. "It's not really aware of its coolness," jokes Gherman, who moved to New York 11 years ago.
The Ukrainian-born New Zealander collaborates frequently with Kettela, working on shoots for the likes of Carine Roitfeld's CR Fashion Book website, US Vogue, Details and more. Last year they flew to Antarctica for Kate Upton's Sports Illustrated Swimsuit cover.
In their New York apartment's spacious living area, sunlight pours in through a large window that overlooks the complex. The look is kind of minimalist mid-century with quirky, boyish touches: dark wooden floor, a classic stainless steel Arco floor lamp hanging over a black leather couch and vintage coffee table with black stone top, a Le Corbusier chair, a Chuck Close Walker Art Centre poster, toy cars on a bookshelf, snowboarding gear in the corner, a video projector and a vintage "Open 24 Hours" sign sitting on the floor in the hallway.
Like most creatives' homes, the main features of the space are art - framed prints by Fabian Baron and Derek Henderson - and an extensive collection of art and photography books.
There's a mini version of the famed Helmut Newton SUMO book, complete with bookstand for ready display (the original version weighed 35.4kg and came with a Philippe Starck-designed holder). Plus, unsurprisingly for those who contribute to some of the world's top titles, a library of magazines.


- VIVA