Innovative products and flawless skin are the focus for M.A.C's product development team, writes Janetta Mackay.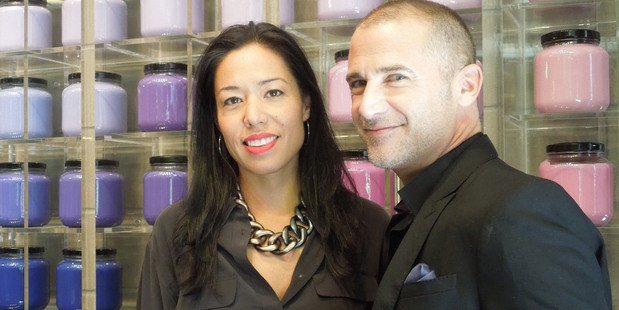 Makeup in general is becoming more traceless-looking," says Nick Gavrelis. "More colourful, too," chimes in Nicole Masson. Sitting side-by-side in a SoHo loft, the two insist there is no contradiction in this, that natural-looking skin is the perfect canvas for a burst of cosmetic colour.
He's intense and deliberate, she's relaxed and exuberant. The complementary opposites work as a team ushering in worldwide trends. As vice-presidents of global product development at M.A.C's New York headquarters, they share a love of finding new formulas. Gavrelis specialises in skincare and foundations, while Masson's brief is to look after lip, eye and cheek colour and mascaras.
Their jobs are a balancing act of creativity and commerce, a coming-together of science and artistry, with an eye to sales.
Fashion weeks are their fulcrum. It is backstage in New York, London, Paris and Milan that products are tested in the most pressured of beauty hothouses and either loved, reworked or discarded. About 90 per cent of development ideas are rejected, often before they even get to the artists.
Some might be good ones too, but are adjudged not the right fit for the brand.
"We know it's a winner if they try to steal it," laughs Masson. She loves it when this happens, although if the product is still under wraps, and if the artist isn't an official tester, it can get tricky. But their enthusiasm is her inspiration. If they rave about something, then it is a good sign the public will, too.


Backstage faves
Makeup artists are rhapsodising about new types of products that prime and finish skin for that flawless look everyone's after, and intensely pigmented eye and lip shades that have an increasingly weightless feel.
Developing these products is what many cosmetic houses are focusing on. Products that fuse longer-term skincare benefits with instant cosmetic improvement while feeling barely there. It explains the release of multi-tasking BB, CC and now blur creams, designed to make the skin look better, but as if by nature rather than obvious artifice.
To protect and perfect. To deflect and define. Or, in the case of next-generation lipsticks, to caress and colour.
Gavrelis talks of how film formers and polymers are becoming more flexible, so "they move with skin, look like skin". In foundation, they support pigment, active ingredients and moisture. "We are seeing other products that cross between being a cream, a powder, a liquid and a gel." These are easy to blend and bring a seamless gel aspect for lightweight colour clarity.
New foundations and illuminators use improved reflection and refraction technology so skin tone shows through while coverage is achieved. Balmy waxes with silicones help smooth skin. When M.A.C first launched its primer, "artists started to flip over it", the pair recall; it went on to be a hit in store.
"It was a backstage secret that real women and men can use. Guys love it, because it will take the shine away."
Primers are now commonplace for many brands and M.A.C's own Prep n Prime range is much expanded, with a new focus on multi-tasking skincare and colour correction. Powders are another much-improved area across the industry thanks to jet milling and new pigment and binder coatings. (Look out for M.A.C's new Studio Sculpt Defining Powder, launching here in September).
"Powders are dusting less and giving superior skin affinity, comfort along with superior wear," says Gavrelis. They polish skin while leaving it looking non-cakey - in short, powder without the powdery finish.


What's next
The job of a product developer is, says Gavrelis, about "trying to deliver a promise". Extensive testing ranges from brainstorming sessions with key artists to giving products a backstage workout and hype-building exposure. With its own labs in home country Canada and near its New York base, M.A.C also taps into independent laboratories in Italy, France, Japan and Korea.
This spread helps Masson keep her colour forecasting on trend to a global audience yet regionally relevant. In deciding what shades to discard she doesn't only look at sales, but at specific niche demand. With 50 collections launched by M.A.C each year there may be 150 new lip shades to juggle; some are limited edition releases, others may make the permanent line-up at the expense of existing shades.
Ask these former makeup artists what they are most excited about and Masson says she loves that colour has got brighter and glossier. More importantly it has become easier to wear, she says, thanks to adaptive formulas.
"The colour is not going to be sitting on your skin, it's going to blend with your skin." This show-through allows the wearer to try shades that might not have suited their skin tone in a more opaque mix.
In the pipeline are improved compact foundations and sumptuous synthetic brushes, plus more of those super-fine powders. Gavrelis' dream: "Ultra high broad spectrum UV protection in the thinnest, most flexible fluid foundation that has true shade colour purity from the very lightest shade to deepest dark. Combining high SPF with shade integrity is a tremendous challenge for chemists and product developers."


- VIVA