Fashion merchandise planner Annik Bunting stays true to her style, choosing black and muted shades over the vibrant hues favoured by her J.Crew colleagues.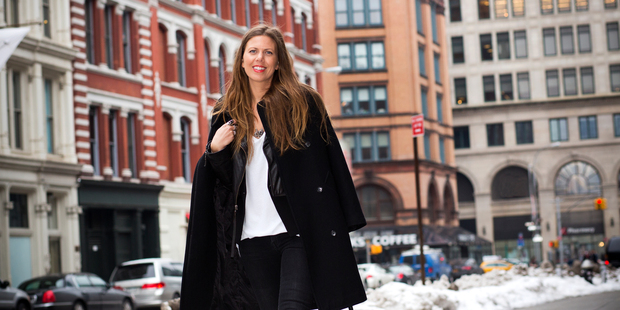 The Woman: Annik Bunting
What She Does: Fashion merchandise planner for Madewell in NYC.
What She Wears: A casual mix of black jeans, black blazers, plain T-shirts in muted colours, black ankle boots.


Two weeks after arriving in New York in 2012, Annik Bunting was offered a job at J.Crew, a brand that represents a unique kind of New York style. Her role as merchandise planner for Madewell, a line owned by the J.Crew company, involves determining how much product to buy, analysing and forecasting trends and sales and controlling stock levels.
"Every day is different working in retail which keeps things interesting," says Bunting, photographed here near her office in the East Village. After studying law and philosophy in Auckland, she "fell into fashion by luck and someone taking a chance on me", and has since worked at Lee Jeans, Farmers, Levi's and Country Road in New Zealand and Australia - before achieving her dream of moving to New York.
What has living in New York taught you in terms of your career?
I had always dreamed about living in New York and thought I would never be able to make that dream a reality. However, after some encouragement from friends already based in NYC and meeting a few industry people I discovered quickly that there are so many opportunities here and that the city is not quite as daunting as I believed. I guess it has really just taught me not to be scared to take a risk.
What's your workday style?
Madewell is casual and really "anything goes". About 90 per cent of my wardrobe is black, which is different from the most of my co-workers: colour definitely rules in J.Crew. New York has made me very casual in the way I dress which I think comes from the time you spend walking here - the heels I wore in Auckland and Melbourne have been replaced with boots, sneakers and flat sandals.
Describe your office environment.
There about 1200 people working for J.Crew, so it is big. Everyone is young, passionate about fashion and they are mostly female. The urban legend of our CEO, Mickey Drexler, talking all day over a PA system is true, it sometimes feels like you are working in an airport.
Much has been written about the style of J.Crew's creative director and president, Jenna Lyons. Does her look influence how people dress at the office?
Definitely. Jenna Lyons has such an amazing, distinctive sense of style and you can see that girls in the office try to emulate the way she dresses all the time.
Is there any pressure to dress creatively, working in the fashion industry?
I don't think I would call it "pressure". I have always really been into fashion so the way I dress is just part of who I am. I have remained pretty true to my style throughout the years and I don't really indulge in trends that much. I feel that the way I dress and the amount of black I wear is still very influenced by New Zealand designers. I don't dress like a typical J.Crew girl, which probably makes me stand out a bit in my office.


ANNIK'S NY FAVOURITES
Samurai Mama 205 Grand St, Brooklyn
One of my favourite restaurants in Williamsburg, the freshly made udon is amazing and the ambience chilled out. This place never disappoints.
The Butcher's Daughter 19 Kenmare St, Nolita
Cool juice bar and vegetarian cafe, gorgeous space filled with plants and beautiful people. An easy place to watch the world go by.
Toby's Estate 125 North 6th St, Brooklyn
In a city where finding a good coffee can be a struggle, this place is a coffee snob's paradise. Always packed but worth the wait for a perfect flat white and tasty food.
Oak 28 Bond St, East Village; 55 Nassau Ave, Brooklyn
Unexpected mix of established and up-and-coming designers for men and women, this shop is almost all black, white, grey and minimal. If I could choose one shop to be my wardrobe this would be it.
Spuyten Duyvil 359 Metropolitan Ave, Brooklyn
Amazing selection of beer with an even more amazing courtyard out the back for hot NYC summer nights.
- VIVA