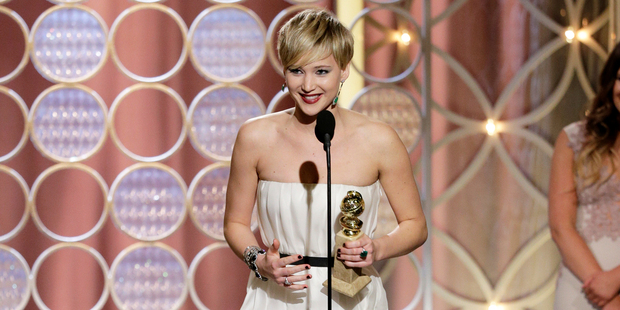 I really like it when I get to see the cracks in glamour. That's why it's so good having Jennifer Lawrence around. Her transformation from scrappy teenage actress to the biggest young star in Hollywood has been seamless and delightful.
Happily, the efforts that have gone alongside it to turn her into a fashion plate have met with less success. That is not to say she's not gorgeous, or even, mostly, exceptionally well dressed. It's all the work of stylists, though, as Lawrence has, on occasion, been more than ready to confess.
"I really would not call myself a style icon," she told some witless presenter on E! TV. "I would call myself somebody who gets dressed by professionals. [It's like] 'Dance, monkey, dance. . .' I would call me more of a monkey."
She's on the money, of course, although monkey might be a bit harsh.
Famously, Lawrence has been an ambassador for Christian Dior for the past few years, and she's made a good fist of it for someone who's not too pushed about clothes.
When she won at last year's Oscars, her hand-stitched, fit-for-a-princess pale pink Dior number was the dress Seen Around The World, albeit from the back view, when she so very likeably fell over on the way to the podium.
For all that, though, she's no Best-Dresser. It is quite possible she doesn't even care about clothes. You can see it in the way she wears them; there was an air of self-consciousness-verging-on-embarrassment mixed in with her natural chutzpah when she dutifully fronted in that array of directional Dior ensembles for the Catching Fire press tour.
You see it even more clearly when she's talking about clothes than when she's wearing them. Witness the latest campaign for Miss Dior.
Shot by Patrick Demarchelier, the photos feature J-Law, barefaced, seemingly, except for darkened eyebrows, holding on to some handbags, looking intense, vulnerable and austere. That is to say, nothing like the laughing girl we know. That's why they're good photos. They show an entirely different side to her.
This is a much more sophisticated, much more "fashion" J-Law. They also shot a video to go with the images, and this, thankfully, is where the wheels come off. The staging is exquisite, all black and white shots of an immaculately coiffed-and-made-up Jennifer with a soundtrack of soft piano music. Listen to what she's saying, though, and the cracks in the plaster start to show.
"When you're wearing a dress you feel really good in . . . it can be really fun . . . and therefore make you happier,'' she tells the camera. An inarguable sentiment, but it's hardly up there with the style maxims of Coco Chanel. Nor should it be.
Jennifer Lawrence is an actress. She's really good at pretending to be other people on camera. That's her talent. She doesn't have to know anything about haute couture. It's only in the last few years that fashion brands have decided they need Hollywood stars to front their ad campaigns. Actresses may look good in the clothes, but they don't have any inherent abilities to parse them.
In fact, as J-Law herself happily admits, in this era of stylists, the best thing for a young actress to do might be to wear what she's told.
Not that it bothers her in the slightest. She may just be the happiest dancing monkey ever to model for Miss Dior.
- VIVA