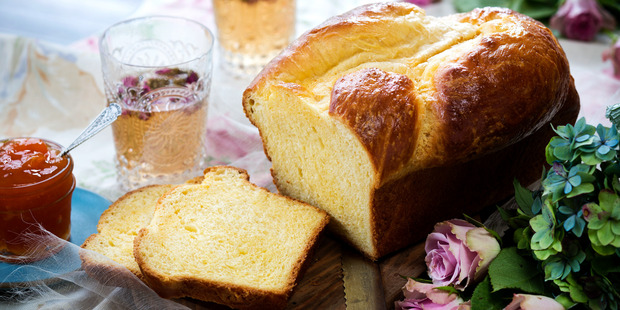 Brioche with apricot jam
Makes 1 large loaf
• 1 Tbsp yeast
• 2 tsp sugar
• ¼ cup warm water
• 375g flour
• 1 tsp salt
• 5 eggs, size 7
• 175g unsalted butter
• 1 egg lightly whisked to glaze
1. Mix the yeast and sugar together. Sprinkle on the warm water and leave for a few minutes until starting to froth.
2. Into a large bowl place the flour and salt. Make a well in the middle and break the eggs into it. Whisk with a fork, add the yeast mixture and gradually draw in the flour and salt. The dough will be soft and quite sloppy. Knead on a lightly floured bench until soft and even. Place in a lightly oiled bowl, cover and place in a warm place to rise for 1½ hours.
3. This is the fun part: flatten the butter with a rolling pin. Place it on the dough and pinch the two together. Scoop the dough up squeezing it together until the butter is completely incorporated. Knead for 2 minutes further using a bit of extra flour.
Place in a clean bowl. Leave overnight or for at least two hours.
4. Now it is ready for your tin. Grease a 30cm x 10cm tin. Divide the dough into three. Roll each into a 30cm log, join them at one end then plait together. Place in your greased tin. Cover and leave to rise for 30 minutes. Brush with the egg glaze.
5. Set oven to 220C. Cook the brioche for 15 minutes then lower the temperature to 190C for a further 30 minutes, or until it sounds hollow when tapped.


- VIVA