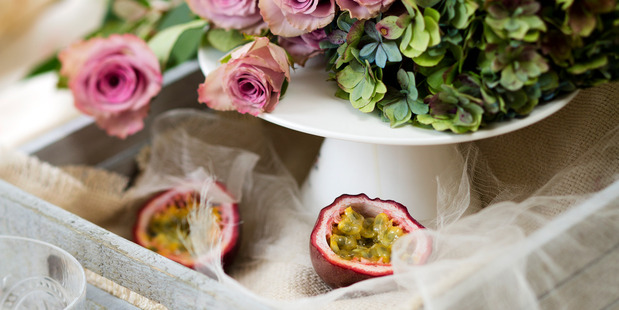 The idea of a large bunch of roses dropped anonymously on the doorstep sounds most romantic. Maybe even a card signed by your admirer. But, if that is unlikely, perhaps you had better be the instigator to ensure Valentine's is celebrated in style.
Traditionally, loved ones give flowers, chocolates, lingerie, or go out for a meal at a special restaurant. If that doesn't appeal, and you're after something a little less commercial and more personal, how about breakfast in bed? Be organised and begin preparation the day before.
Something delicious and a real treat is home-made brioche. My favourite part of making this is the feel of squishing the butter between my fingers and kneading it into the dough, then watching it rise and cook into a rich, buttery bread.
Complex as the ingredients are, it's worth the effort. The eggs help the bread to rise while the butter adds richness and stops it from drying out.
If you are adding fruit, do this in the last stage. The dough can be baked as one loaf, in traditional fluted moulds with a crown placed on the top, or simply rolled and baked as sticky buns. However you use your dough, there'll never be leftovers.
There's always a jar or two of different mueslis on offer in our home. Our everyday favourite has no added wet ingredients, and is dry roasted to ensure the nuts and seeds are crisp.
For Valentine's Day, I've chosen a muesli with sticky honey and oil added for a golden crunch and a bit of sweetness. Always add the fruit when the muesli has cooled otherwise it will become dry and hard. Serve it with seasonal stewed fruit and Greek yoghurt, and you'll feel healthy and vital all day.
A touch of romance with a personal touch is home-made marshmallow. It looks tricky but, in fact, is very easy and absolutely delicious for those with a sweet tooth like me. This also makes wonderful gifts.
I have discovered Fresh As pouches - freeze-dried 100 per cent fruit ground into a powder - available from speciality stores, which are an easy way to add rich, intense flavour to your food.
I've used these to add fruit flavour, but a teaspoon of vanilla or any other flavouring will be just as successful and sure to be loved by your Valentine.


Recipes:
• Brioche with apricot jam
• Home-made muesli with poached apricots
• Raspberry and passionfruit marshmallows


- VIVA