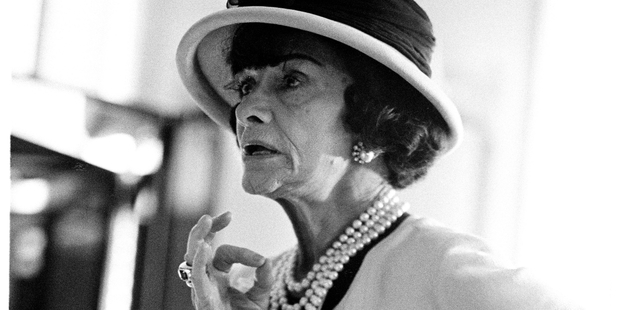 Is it possible to write a style column without invoking Coco? Possibly, but I don't recommend it. Coco Chanel is peerless as an epigrammist of elegance.
Funny, cogent, vivid, memorable, she's the one who first said, "Simplicity is the keynote of all true elegance", thereby distilling your new failsafe dress code in 10 words or less. You're welcome.
Plus, anyone game (and nuts) enough to say a woman who doesn't wear perfume has no future deserves to be quoted.
As a personality, Chanel was clever and driven and distinctive at a time when none of those things was easy for a woman to be. She said if you were born without wings, do nothing to prevent them from growing, and she also said gentleness doesn't get work done unless you're a hen laying eggs.
She took no prisoners, as the hen quote indicates, and famously lavished the bulk of her time and energy on herself and her business. She had an effortless understanding of elegance, but she was also smart enough to put it into the wider sweep of history, which is what really separates the men from the boys in terms of artistic creativity.
Chanel designed clothes that somehow anticipated the needs and desires of women, and she did this by understanding that fashion isn't in dresses, but rather in the street and the sky and the cities we live in. She said that. Those are her words I'm using.
She became one of the great designers of the 20th century because of that intuitive grasp of a wider context, an intuition that allowed her to make all sorts of uncanny leaps and juxtapositions, from fisherman's stripes to jersey evening dresses.
She was fearless, too, as well as being a visionary.
Born into the 19th century, Coco marched bravely into the 20th. She said elegance was for those taking possession of their future. Certainly, she grabbed hold of hers, and she didn't seem too bothered about the ageing process that comes with it. The face you've got at 50 is the one you deserve, she told women.
More than elegance, even, she knew women. She knew what we like, and how we want men to see us. More importantly, she knew the real challenge of every woman's life, which is: how to encounter our own reflection, and make peace with it. How to create and enjoy our own image and how to show it off to its best advantage without inhibition.
What this all means is that when she's talking about "style" Coco Chanel is really talking about "spirit". That's speculation, and I can't prove it, except by pointing to the evidence of her own life, and how she lived it. She told us to be classy and fabulous, and that the most courageous thing is to think for ourselves - aloud.
Those aren't style epigrams, they're exhortations.
Coco was in the business of fashion but her real job was inspiring women. The suits and the necklaces were just her means of doing it.


* What do you think - Coco Chanel, more than a designer?