Managing director of ECC Mike Thornburn on design trends for 2014.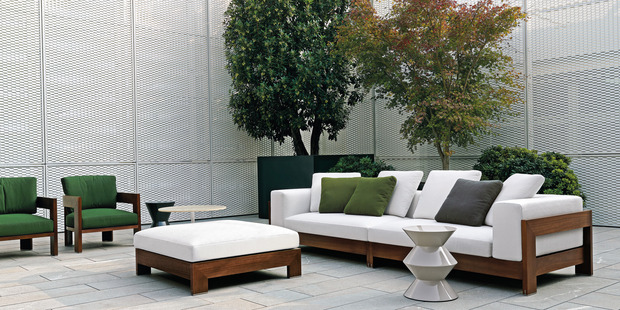 My design philosophy has always been to go with what I like. If you walk into the ECC showroom you see straight away that it is an Aladdin's cave of design classics, minimalist Italian style, playful Dutch creativity and industrial design, all sitting side by side. We are fortunate to represent the leading designer brands in the world such as Flos, Artemide, Minotti, Moooi and Tom Dixon and their annual releases at the Milan Furniture Fair always excite me.
I predict in furniture a 1950s/60s trend but with more padded comfort than the original era. We are seeing honesty in materials like wood in natural oiled finishes, or the rawness of concrete.
Lighting is all about LED. Advancements in LED technology have led to designs that would have been impossible five years ago. The minute diode size has enabled them to be secreted in frames, candle tips and wire-like pendants.
My favourite on-trend colour has to be the vibrant green of the Minotti Alison Iroko outdoor range.
Other shades of green also feature in current collections along with orange, blue, purple and red. Fabric is moving towards a more textured weave, often in two shades, like moss green and white.
The Dutch designers inspire me right now. The creativity of Marcel Wanders of Moooi is unexpected, quirky and truly eclectic. His Heracleum lamp, The Big "O" from Moooi, an elegant circular LED pendant, has just gone on display in our Auckland showroom. Less well known but also from the Dutch camp is Piet Boon. His style is a lot more rustic and low-key. We have some beautiful Piet Boon leather dining chairs and wooden tables in store, and I love them.
This year we are investing in our showrooms in Auckland and Wellington to add more floor space to display products.
In Auckland we recently opened a new architectural showroom focusing on LED lighting. It is a great place to come and see the light output and quality of individual products.
In Wellington we have moved out to a temporary location while our showroom undergoes a full renovation, earthquake-proofing and upgrade. We are doubling the floor space in Wellington. All this means I can buy more stock! I'll be off to Milan in April for my annual pilgrimage to the Milan Furniture Fair and to Frankfurt Light + Building, the lighting fair which is held separately this year.
The perfect home should have an understated comfort, warmth and a relaxed atmosphere.


- VIVA