The woman:
Sarah Hopkinson
What she does:
Director at art gallery Hopkinson Mossman
What she wears:
Classic tailoring, creative designers, silk dresses for exhibition openings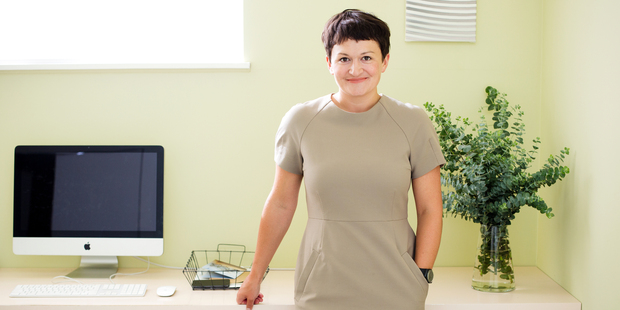 A day in the life of Hopkinson Mossman gallery director Sarah Hopkinson may involve everything from meeting a client to a briefing with an artist, so her working wardrobe needs to be just as versatile - and interesting, to reflect the creative environment.
Her essentials? White shirts, suit pants, silk dresses, oxfords, white Chucks. "Most days I wear some iteration of a suit; tailored pants with a silk shirt and Georgia Alice blazer, a tailored Penny Sage jumpsuit, or an oversized shirt dress."


Does working in a creative environment influence what you wear day to day?
Yes, I think it gives licence to wear whatever I like as long as it looks purposeful. In a concrete sense the gallery is a great environment for that: it's clean, crisp, white, brightly lit.
You are the face of your gallery; do you dress to represent it and reflect its reputation and aesthetic?
All day we are talking about art - about how things look and what that might mean. It's not so much that the way I dress directly relates to the gallery's aesthetic - but you've got to look like you know how to put an outfit together.
Your team is small. Is there an office dress code?
It is very small, just me and Danae (Mossman). There is no dress code, although we often turn up in similar outfits, and have several shared garments. We have close but not identical taste in art - identical would be boring - and the same goes for clothes.
How do you dress for openings, compared to day-to-day in the gallery?
Openings are in the evening, and often followed by a dinner, so I usually change into a dress if I am not already in one. I've been wearing Miss Crabb since I started working in galleries and her silk dresses still, happily, dominate my wardrobe.
There are a few art world stereotypes - the I-only-wear-black intellectual, the Marni-clad creative. Is there any truth to that?
There is some truth to it I think ... I wore Marni to the registry office for my civil union last year, and I know black always looks good.


- VIVA