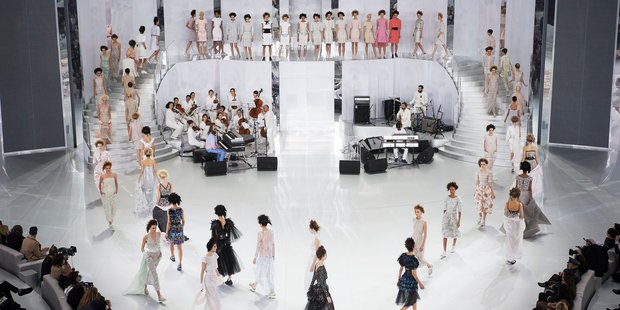 Haute couture today is about spectacle. And the most spectacular of spectacles, inevitably, comes courtesy of Karl Lagerfeld for Chanel. I'm not talking sunglasses here, although they are one of the motivating factors behind the few houses still staging the elaborate, labour-intensive and usually loss-making couture shows. There aren't many women in the market for five-figure frocks.
However, the couture shows are great advertising tools, fuelling mass-market desire for entry-level goods, such as make-up, perfume and, indeed, sunglasses. Hence, they still make economic sense.
But haute couture means something: a rarefied form of fashion, entirely made by hand, which allows designers to utilise techniques unimaginable elsewhere. Nowhere else in fashion can hundreds - even thousands - of hours be spent on a single garment.
It's important because it keeps specialist crafts alive. It's a direct link to the 18th and 19th centuries. It's like owning a piece of history - hence the price point, which can approaches that of a Chippendale chair or a minor work by a major artist.
The clothes at Chanel's spring/summer 2014 couture show were exquisite examples, encrusted with microscopic sequins, hand-embroidered flowers degrading into ostrich feathers, glimmering with iridescence.
Chanel champions those artisan forms: it has bought a number of specialist workshops, including the embroidery house Lesage and feather specialist Lemari, to ensure their survival into the 21st century. Their work is essential to the magical impossibility of haute couture, the sort of clothes you have to bury your head into to fully comprehend.
There was also a touch of the dynamic modernism that's been infecting this seasons couture shows. Lagerfeld is a master at that kind of gesture. He chose to send every one of his models bounding down a staircase in haute-couture trainers, their pastel hues perfectly matching their gowns. A few came paired with legging-slender trousers, or even haute-couture kneepads. And everywhere, in everything, there was a sense of ethereal lightness.
That was energising. Yet as the models took their turns in the vast auditorium for the cameras - and, incidentally, for the audience, ranked along the perimeter so they didn't spoilt the shot - you couldn't help but feel frustrated by the distance between your human eye and these clothes so intimately born of the human hand.
Take a look at highlights from the show: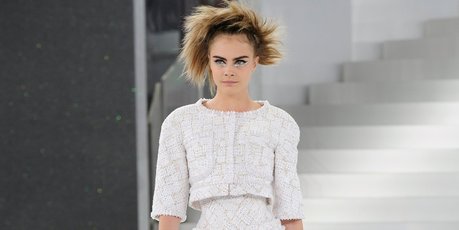 - THE INDEPENDENT