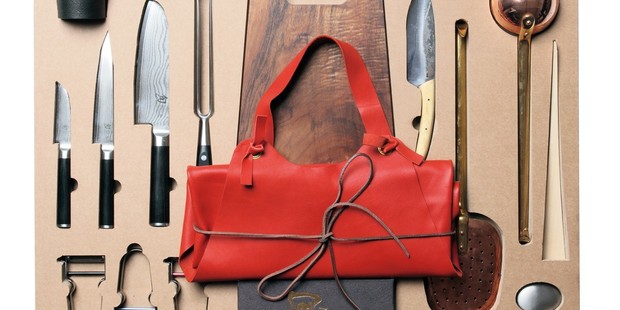 What do you give to the chef who has everything? They've already got gourmet oils, new blenders, first-class bakeware ... you've given them cook books every other year.
Enter French brand Malle W. Trousseau's modern day "trousseau" - a collection of the world's best kitchen implements, a tray full of hand-crafted life-long essentials.
Designed by Isabelle Mathez and Frederic Winkler, who collected the ultimate kitchen utensils over the years, only to have their daughter ask to take the best of them when she left home, each product in the carefully curated trays is selected for its "unique functionality, design and quality".
There are three trays to choose from - cutting, cooking and containing. We love the look of the cutting tray pictured here, which contains 16 pieces (stainless steel soap, skimmer, grinding stone, vegetable peelers, Shun knives, spice grinder, carving fork, cutting board, leather apron, Corsican knife, ladle and wooden spatula.)
You can also buy a deluxe set of three trays, or bite-sized pieces, such as a trivet or vegetable peeler set for $59.90, for those who aren't quite so high on Santa's good behaviour list.
Malle W. Trousseau cutting tray, $1995, from Corso de' Fiori. Ph (09) 307 9166.