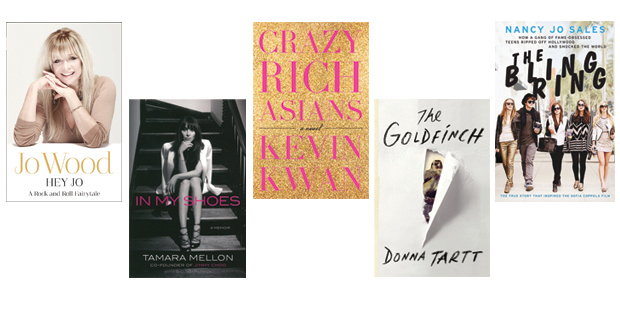 THE GOLDFINCH, by Donna Tartt
The much anticipated release from Donna Tartt (herself particularly stylish, with her sharp bob and black jackets), this weighty read follows Theo Decker as he deals with the death of his mother in a terrorist attack in a New York museum. From chic Park Avenue apartments to the gaudy lights of Las Vegas, Tartt's rambling prose will have you engrossed for days.
A few stylish lines:
"Beyond, in the richly decorated living room (all glazed chintz and Chinese jars) it felt less like morning than midnight: silk-shaded lamps burning low, big dark paintings of naval battles and drapes drawn against the sun. There - by the baby grand, and a flower arrangement the size of a packing case - stood Mrs Barbour in a floor-sweeping housecoat, pouring coffee into cups on a silver tray."


CRAZY RICH ASIANS, by Kevin Kwan
The flamboyance and level of wealth will leave you as gobsmacked as Rachel Chu, the naive American-Chinese girl invited to Singapore for the summer by her boyfriend Nicolas Young - who has forgotten to mention that he comes from an old Signaporean Chinese family that's jaw-droppingly rich. Expect plenty of designer name dropping.
You'll likely power through it in a day or two, but it's certainly a fun read - Anna Wintour described it as "mordantly funny".
A few stylish lines:
Patric turned to his assistant, a young man in a gray jumpsuit with meticulously combed hair, and declared, "Chuaaaaan! Pull the plump Balenciaga, the naked peach Chloe, the Giambattista Valli that just came in from Paris, all the Marchesas, the vintage Givenchy, and that Jason Wu with the deconstructed ruffles on the bodice!"


THE BLING RING: HOW A GANG OF FAME-OBSESSED TEENS RIPPED OFF HOLLYWOOD AND SHOCKED THE WORLD, by Nancy Jo Sales
Sofia Coppola's film - based on the Vanity Fair article that formed the basis of this book was a disappointment but Nancy Jo Sales' look at the group of teenagers who broke into the homes of celebrities to steal clothes, jewellery and handbags is both shocking and amusing. It perfectly sums up the early 2000s obsession with fame and designer labels.
A few stylish lines:
Nancy Jo, this is Alexis Neiers calling. I'm calling to let you know how disappointed I am in your story. There's many things that I read in here that were false. Like you saying that I wore six-inch Louboutin heels to court with my tweed skirt, when I wore four-inch little brown Bebe shoes.


HEY JO, A ROCK AND ROLL FAIRYTALE, by Jo Wood
A rollicking behind-the-scenes look at life up and close personal with the Rolling Stones, Jo Wood's book reveals her journey from the hedonistic days while married to Ronnie Wood to turning her life around with yoga and organic living.
A few stylish lines:
Right at the front, Ronnie was getting stuck into his solo. Oh, my honey! Seeing him on stage still gave me goose-bumps. Whenever there had been hard times, whether it was his alcoholism, drugs or other women, it was moments like this that all the bad stuff was forgotten. I was married to a creative genius, there was no doubt about it.
But as the roar of the audience drowned out the last notes of the song, I was suddenly struck by the intense conviction that this would be the last time I would be standing there, watching The Stones. It was almost like a premonition. Make the most of this moment Jo, you're never going to experience it again. It hit me so unexpectedly, and with such force, that I was left quite emotional.


IN MY SHOES, by Tamara Mellon
She symbolises a certain type of uber-glamour, and there's plenty of that in Tamara Mellon's memoir that covers her background and rise to the top with the luxury brand Jimmy Choo. From her wealthy childhood dealing with a harsh mother to the business dealings of the Jimmy Choo brand, Mellon reveals a lot in her book, including the thinking behind her latest venture, a namesake fashion brand.
A few stylish lines:
Whenever we were planning a shoot at Vogue, one of us junior people would go down to Jimmy Choo's hideous little workshop in Hackney, past all the barbed wire and the metal grates, and we'd describe what we were doing. "It's a gladiator story ... We need some flat gladiator sandals, only with silver metallic studs." Just before the shoot - always at the last minute - his niece, Sandra, would show up to deliver the goods. We'd give him a fashion credit on the page, and then even more well-heeled ladies who read the fine print would find their way to his shop.''
- VIVA