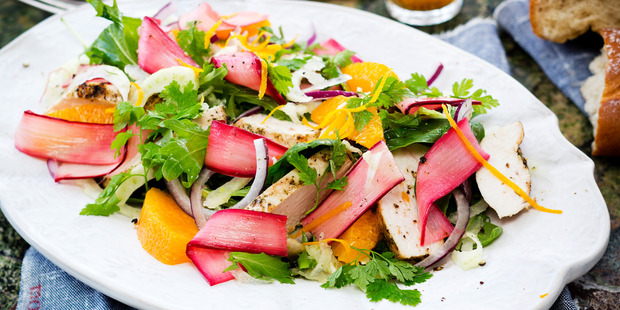 Rhubarb and chicken salad
Serves 4
• 1 stick rhubarb
• 1 Tbsp salt
• 2 Tbsp sugar
• 2 chicken breasts
• 1 Tbsp oil
• 4 cups salad greens
• 2 oranges, segmented
• 1 bulb fennel, sliced thinly
• ¼ cup fresh chervil leaves, to garnish
Dressing
• ¼ cup orange juice
• 1 tsp dijon mustard
• 2 Tbsp olive oil
• Salt and pepper, to taste
1. Cut the rhubarb into 10cm pieces. With a potato peeler, peel into thin strips. Place strips in a colander and sprinkle over salt and sugar. Leave to sit for 10-15 minutes to extract juices and let flavour develop. Pat excess juice off, but there is no need to rinse.
2. Heat barbecue to a medium heat and cook chicken breasts for 5-8 minutes each side or until cooked through. Allow to cool.
3. Combine dressing ingredients in a jar and shake.
4. To serve: Place salad greens on a platter and arrange chicken breasts, oranges, fennel and rhubarb on top.
5. Sprinkle with dressing and toss. Garnish with chervil leaves and serve.


- VIVA