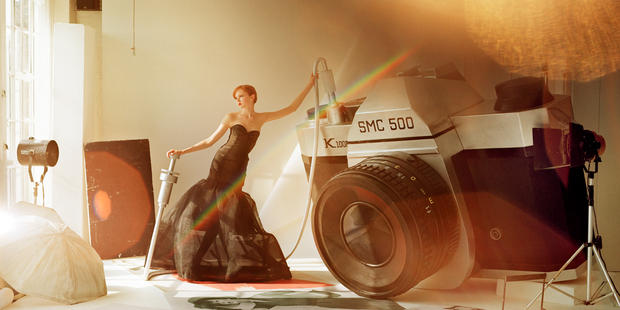 Lillian Bassman's photographs were too fancy for Harper's Bazaar. "You are not here to make art, you are here to show the buttons and bows," Carmel Snow told her, famously, in 1947. Snow and Bassman were in Paris to see the collections, and the legendary editor of Harper's was clear about what she wanted from her photographer: more details, less conjuration.
Bassman did her best, but she failed, luckily. Never did Lillian Bassman succeed in photographing a dress without also conveying what it might feel like to wear it. Her photos capture that priceless alchemy by which a magical gown can seem to transform not just the appearance, but also the heart and spirit of its wearer. Her photos are still evoking those moments of transformation 60 years later.
Thanks to her unique methods of film exposure, the shots she took for Harper's in the glory days of the 1940s and 50s look more like paintings than photographs.
One of the most famous, from the March 1950 issue, shows a woman sitting sideways on a chair in a polka-dot dress that looks like a Dior from the New Look period. It's actually by Omar Kiam for Ben Reig. Neither Kiam nor Reig are household names any longer, but thanks to Bassman, at least one of their creations is immortal.
Read our interview with iconic photographer Melvin Sokolsky here.
Her photo is a sensual dream of chiaroscuro; a swirling composition of blacks and whites that haze and pop in perfect proportion. The polka dots on the dress shine like white diamonds against the black of the models' long gloves, and her waistband and buttons.
Little wonder they do: Bassman "burned in" the entire print, bit by bit, through a tiny hole to give it its shadowy appearance, and then handpainted every single tiny polka-dot on to the image. She did as Carmel Snow ordered and showed "the buttons and the bows" but she did it on her own terms, as only she was capable of doing. Bassman took a girl, a dress and a pair of black gloves and turned it into a moment of endless romance and hopefulness. She didn't just sell dresses to the readers of her magazine, she sold them a vision of a life less ordinary. "Selling dreams," was how Irving Penn would put it.
Lillian Bassman, Irving Penn, Richard Avedon, Bruce Weber, Corinne Day and Juergen Teller are just some of the legendary photographers whose work will be on display when the Selling Dreams: One hundred years of fashion photography exhibition opens next week at Auckland Museum. It comes to us from the V&A, which houses Britain's National Collection of the Art of Photography, and this is a portfolio of images showing artists at work, make no mistake about it.
Fashion photographers exist at the intersection between art and commerce. They're there to sell us things, to show off "the buttons and the bows" as Carmel Snow put it. But sometimes, happily, commercial imperative is no match for talent. These are the moments when artistry wins, when creativity triumphs. A snowstorm of hand-drawn polka dots, Lily Cole and a giant camera. Emblematic elements, transformed by sensibility. A photo of Twiggy on a bicycle that becomes a record of history. Real artists sell you dresses, and sneak the world in with them.

• Selling Dreams: One hundred years of fashion photography, Auckland Museum, December 6-February 28.
Noelle McCarthy will be part of the Viva Smart Talk Series of Wednesday evening events throughout the exhibition, featuring floor talks and panel discussions with photographers, designers and editors.
• Look for our interview with photographer Melvin Sokolsky, who created the famous "bubble" photos, in Wednesday's issue of Viva.
- VIVA