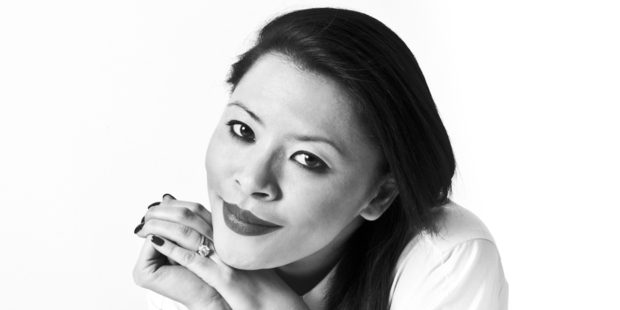 Treasure troves aren't exactly everyday finds. A fashion treasure trove is even rarer, especially because, unlike gold, fashion loses both its value and its glitter through the passage of time. But oddly enough, that's exactly how the Linda Farrow brand began its new lease on life a decade ago.
In 2003, the husband and wife team behind the label, Tracy Sedino and Simon Jablon, were boyfriend and girlfriend aged 24 and 22 respectively. While renovating a warehouse owned by Simon's parents, they discovered thousands of pairs of sunglasses in mint condition. Simon's mother is Linda Farrow, who founded her eponymous company in 1970 before shuttering the firm to focus on her family in the mid-80s.
"It was a time when vintage had really exploded, both as a source of inspiration for modern designers and also for the resale market," says Tracy. And the bold-face names emblazoned on a selection of the frames - Dior, Yves Saint Laurent, Balenciaga and Sonia Rykiel, to name a few, all of whom Linda Farrow worked with to create unique sunglasses - guaranteed they would catch the people's attention.
The reaction was instantaneous and universally positive. The company has turned a profit from the get-go.
Obviously, several thousands of pairs later, Linda Farrow couldn't rely on vintage frames alone. The company now reflects the fact that though the label still looks to vintage for its inspirations, its designs are firmly focused on the future.
"From launching the vintage range, a lot of designers were approaching us, excited by the archive frames," continues Sedino. " So we thought: why not collaborate with the modern equivalent of these brands and create future vintage?"
The first labels they worked with included Belgium's Dries Van Noten and the exuberant New York designer Jeremy Scott. They still collaborate with those designers today, alongside brands that include Oscar de la Renta and the Olsen twins' label, The Row, in New York, innovative menswear designer Walter van Beirendonck in Paris and lingerie specialist Agent Provocateur in London.
The sense of collaboration is key both to Sedino's and Jablon's still-expanding business and this year's 10th anniversary celebrations. For the first time, it isn't restricted to your face.
"We chose 10 specialist designers and fashion studios from around the world to collaborate with on a collection of limited edition pieces, to create a 'Linda Farrow Universe' of luxury," says Sedino.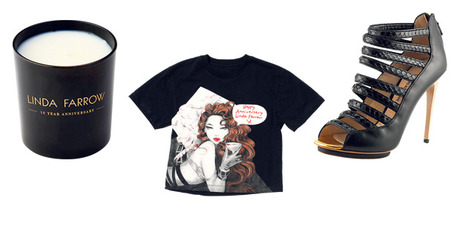 There's everything from a leather-trussed Agent Provocateur playsuit to strappy Nicholas Kirkwood shoes, to a Saga woven fox fur coat. It kind of fits: the brand was originally founded in the 70s, after all, when Helmut Newton was riding high. He'd have a field-day photographing this clobber. For the slightly less brave (or those looking for something lighter on the pocket - the shoes weigh in around $900, that fetishy playsuit $250), Linda Farrow has created a 60s candle with Cire Trudon. "And, of course, a capsule collection of limited edition sunglasses," says Sedino.
"We thought about the kind of presents we'd like to receive for our 10th anniversary, and decided to offer them to our clientele."
• The 10-Year Anniversary Collection by Linda Farrow will be stocked locally at Zambesi's Britomart store, which was selected to stock it alongside prestigious international boutiques including Collette and Selfridges. Ph (09) 303 1701.


IN TOWN
Linda Farrow's Tracy Sedino and Simon Jablon are in New Zealand this week to launch the collection at Zambesi, which was selected to represent the collection locally. We had a chat with Sedino before she arrived to celebrate the launch.
Do you notice a preference in different parts of the world for specific designs?
People buy very different shapes, depending where they are from. Scandinavia and Benelux [Belgium, Netherlands and Luxembourg] will go for classic shapes in acetate, Asia and Russia will be more extravagant: they love snakeskin and gold with oversized frames. Europeans will like more small shapes, pastel colours and gold lenses. Americans love aviators. But in general, people who buy Linda Farrow are searching for something different, more luxurious, more interesting and an exclusive product.
Your sunglasses are stocked in New Zealand at Zambesi. When was that partnership established?
They first started buying Raf Simons from us in 2007 and we have kept the relationship since then; they are the only New Zealand store to carry the Linda Farrow collection.
Tell us about your 18K and Luxe lines?
It is about going that extra mile for our clients by offering a bespoke service with handcrafted eyewear created by highly skilled craftsmen. The collection is made from solid 18-carat yellow, white or rose gold and accessorised with brilliant-cut white, black, pink or yellow diamonds, rubies or sapphires, making this collection the most exclusive in the world.
How often are new designers asked to help create collections?
We are constantly reviewing who we are working with; this depends on our current brand mix, plus other designers we are attracted to and excited to work with, and if they fit well with the ethos of Linda Farrow. We add designers at the beginning of a season, but will also work with new designers throughout the year if we feel it's a great opportunity.
- VIVA, The Independent