Ex-pat Gala Darling returns home with her workshops aimed to inspire bloggers.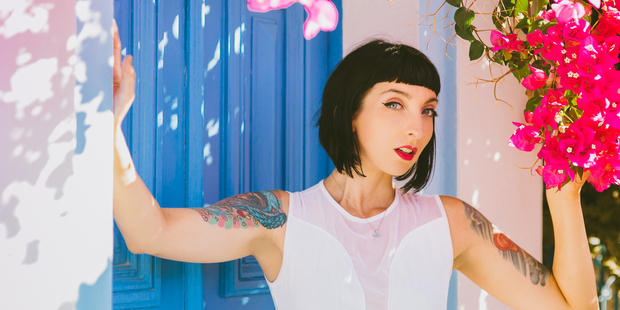 Gala Darling knows blogging, having turned the one-time hobby into a full-time career, complete with thousands of followers and an appropriately glossy lifestyle. Ever reinventing herself, the 30-year-old has now turned teacher, inspiring budding bloggers through The Blogcademy, a workshop designed and run by Darling and fellow cyber stars Kat Williams and Shauna Haider.
Conceived out of frustration with the limited workshops available, the best friends started the travelling school to teach the basics of design, strategy and branding to aspiring bloggers, but a year on have found it has grown into something even more powerful.
"What we're learning is that The Blogcademy is really about encouraging women to have a voice, to be themselves and be original and not be afraid. Women are really excited they're learning so much about themselves in class. We're encouraging them to break their moulds and do what they really want to do and that's so powerful," Darling says.
Following dates in London, Melbourne and New York, the two-day schooling session arrives in Auckland next weekend, giving 30 New Zealand bloggers the chance to learn valuable tips off the three "headmistresses".
After their Auckland workshop, the girls will have taught 300 women and seven men, all ages included, with a 55-year-old Texan proclaiming the workshop to have been "the first day of the rest of her life". There are no plans to slow down either, with 12 dates booked in for next year's world tour.
"We've created a lot of work for ourselves," Gala says, but adding she's loving every minute of it. "It feels true to my message in terms of encouraging women to be who they really want to be. That's so amazing and certainly not what I expected when I started [the workshops]."
We last saw the New Zealander-turned-New Yorker in 2011 when she was home for New Zealand Fashion Week, but Gala says her fashion blogging days are now behind her. "My focus is more on self-love and self-esteem now, that's really what I'm passionate about."
As are her fans, who turn to her highly popular downloadable podcasts and inbox inspiration guides for advice on transforming their lives via a slice of the Gala positivity pie. The web-savvy entrepreneur has just launched Dare/Dream/Do, a 30-day motivational email series, and is working on her second book, a survival guide for women in their 20s, due to be released next year.
Fashion is never far away though, with Darling in demand for designer collaborations, recently helping Juicy Couture launch a new fragrance and debuting "Moxie" while she is in town, a range of jewellery inspired by "the magic of language" produced in conjunction with New Zealand Mint. The four styles are set to arrive in stores early December, just in time for the season of shopping.
The Blogcademy is on at Generator, November 9 & 10. Register for US$750 at theblogcademy.com