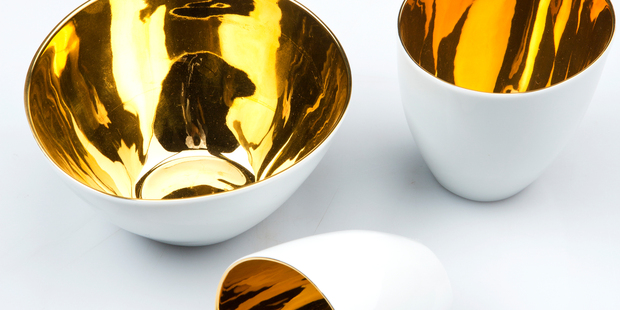 Go Gold
Add a touch of elegance to your morning coffee or breakfast with these gorgeous gold and white heat-proof vessels from Madder & Rouge, from $65-$98. 25 Teed St Newmarket, ph (09) 522 1062. madderandrouge.co.nz


Charity Begins At Home...
And what better proof of the saying than when the owners of 11 stunning Auckland homes open their doors on Friday, November 8, to raise funds for the World Child Cancer Charitable Trust, which helps treat Pacific children suffering from the disease.
The tour, from Herne Bay to Devonport, includes styling tips from experts (including making Christmas wreaths) and fabulous food by such celebrity chefs as Robert Oliver (winner of the Gourmand World Cookbook Award for Me'a Kai and author of the newly released Mea'ai Samoa) and Sean Connelly of The Grill. The Your Home and Garden Festive Home Tour 2013 is on Friday, November 8, 10am-4pm. Tickets are $60 and available through Ticketek.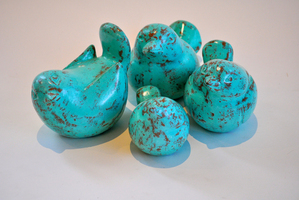 Arriba!
Fancy your own Mexican fiesta? Head along to a pop-up store at Northcote Pt and bring a touch of vibrancy to your interiors through fun artisan and designer homewares. Imported by Briar Walsh, who has been travelling to Mexico for over 20 years, there are hand-painted bowls and handmade cushions plus mirrors, furniture, art, antiques, lighting and accessories.
The Made in Mexico pop-up store is in Briar's home, a renovated RSA Hall, at 47-49 Queen St, Northcote Pt. Open from Tue-Thu, 10am-2pm, until November 21.


Trading Post
Finding (then paying for) holiday accommodation can suck the fun out of planning your next break away. A new website aims to minimise the pain, putting New Zealand homeowners in touch with others willing to swap their houses for short breaks in a new location. Its creator, Stephanie Georgalli, says the house swap concept works well overseas but hasn't been done for holidays exclusively in New Zealand.
When a lifestyle move to a farm in Matakana, north of Auckland, cut her disposable income and put expensive family holidays off the agenda, Stephanie set about creating the site, which was launched last month. Now her family is set to swap their home for a week in January in exchange for a break in "a flash home" in Queenstown.
"We are exchanging cars, too, which we are parking at the airport, and we are leaving all the bikes," Stephanie says.
The fledgling site already has 180 members who pay $29 a year to register their home. Homeowners are then free to organise as many swaps among themselves as they wish in that time.
Maybe it's not too late to organise that beach escape after all.

Great Outdoors
Grab the secateurs! You'll want to step straight outside and start creating with this new book compiled by Lisa Newsom, founder of Veranda magazine. The very refined, global gardens in this 288-page tome may be the stuff of daydreams but the gloriously photographed spaces will leave you more than a little inspired to spruce up your own piece of paradise - even if you don't own a woodland, chateau or Mexican retreat.
In these pages you'll not only find a heap of well-tended buxus and manicured lawns but ideas aplenty, everything from the appeal of a group of antique birdcages suspended against an ivy-covered wall, to how charming a row of potted olive trees can be.
Veranda: The Art of Outdoor Living by Lisa Newsom, published by Hearst (distributed by David Bateman), $119.


- VIVA