When the weather is suddenly too good to ignore, Angela Casley suggests an impromptu, but elegant, light lunch for friends.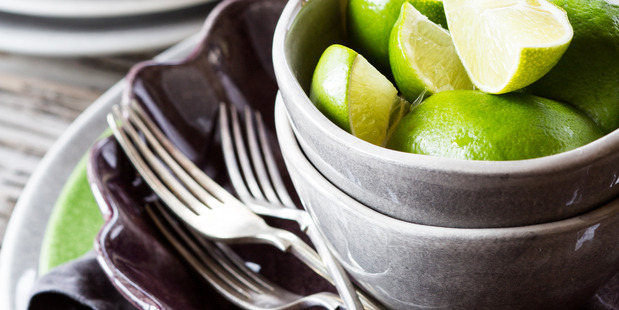 There's nothing as pleasant as an impromptu lunch with friends on a sunny afternoon. It's even better if it's midweek and you don't need to be at work.
The warmer weather is a great excuse to grab the opportunity. If it's a last-minute invitation, you'll need a couple of dishes you can pluck out of the air and produce with short notice.
Rather than heading to the local deli and buying salads and a quiche, get a little adventurous and whip up a warm salad or a lean rack of lamb with salad and roasted tomatoes. After a winter of cooking with the slow cooker, this is your chance to lighten the fare.
With its hint of chilli, crunch from the nuts and slight saltiness from the shrimp paste, this squid salad is a taste sensation. You'll find squid at your local supermarket, and it's great to have in the freezer ready for an occasion just like this.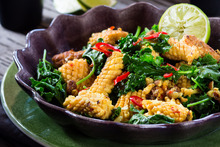 Kale, like spinach, will wilt quickly and needs just a quick toss in the pan. It is best served immediately. If you don't have access to kale, spinach will be fine. The squeeze of lime is imperative.
Chimichurri sauce is a classic from Argentina. When you have excess herbs in the garden and and have run out of ideas about what to do with them, this recipe will help solve the problem. It will keep in the fridge for up to a month and is fabulous as a condiment or with any barbecue meats over summer.
Here, I have rubbed the racks of lamb with a bit of the sauce to give them a subtle flavour. Add a generous spoonful to your plate when served. Do be careful not to overcook your lamb. In this recipe I have used the oven, but in summer the barbecue is a great option.
To finish, these light Lemon and Coconut Crunch Cakes will impress any guests. Serve with fresh fruit of your choice and some toasted coconut. Make one large cake if that is easier for you. It will set in just a few hours so can easily be made in the morning.
When my sister, who loves coconut, is coming for dinner, I swap out some of the cream and replace it with more coconut milk, but personally I like it as it is. So don't be nervous about a bit of experimentation - you may surprise yourself. Enjoy.

Recipes:
• Warm squid and kale salad
• Rack of lamb with chimichurri sauce
• Lemon and coconut crunch cakes