Address:
149 Pt Chevalier Rd, Pt Chevalier
Phone:
(09) 845 2235
Cuisine:
Casual dining
From the menu:
Charcuterie $9, Kahawai croquettes $3.50 each, Market fish $27, Rabbit $18, Chicken salad $18, Duck confit $29, Gnocchi $24, Asparagus side $8, Panna cotta $13.90, Chocolate mousse $13.90
Drinks:
Concise independent wine and beer list
Rating:
7.5/10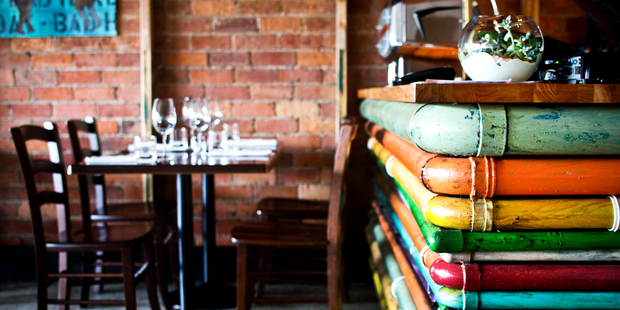 When I drive past what was a tired neighbourhood eatery to find the windows papered over I say a little prayer that whatever is happening inside will magically transform the dining options available in the area. Weeks go by and there's no sign of life. Then one Saturday morning, I notice a sign has appeared and the doors are flung open. Twisted Tomato, the new neighbourhood eatery in Pt Chev, is born. Further investigation reveals a hopeful story; chef Thomas Walden worked at TriBeCa, under Hayden McMillan, and this is his and partner Tamara Wright's first independent venture. There's a certain strength in establishments that are run by couples in the hospitality industry and I can't help but have hope for this one. I book a table for four for their first dinner service the following Tuesday.
When we arrive on the night, I notice how appropriately modest the dining room is - it has the right mix for a local eatery in that it's cosy and comfortable but there's been no extravagant fit-out or set-up costs wasted on anything other than decent glassware, a quality coffee machine and artwork quirky enough to be of interest.
A blackboard menu reads well and when we discover the charcuterie is Jeremy Schmid's (ex-Two Fifteen Bistro) we start with a plateful of that, along with tangy sourdough, smoked butter (yes, it's everywhere and we're loving it) and an order of smoked kahawai croquettes. The latter arrive crowned with a tasty, bright green pea pesto and they are seriously impressive. Chef Walden makes them in the authentic Spanish style with a bechamel filling, instead of cheating and using potato. We swoon over these creamy-crunchy treats as though we'd not eaten in weeks. The charcuterie is equally as tasty and served with the most gorgeously picante pickles so our taste buds are brought alive and ready for what is to come.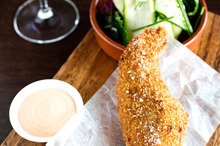 I can't resist the rabbit for my main. A certain confidence is required to put rabbit on a menu and it doesn't disappoint. A generous portion is encased in a star-anise spiked crumb and deep-fried and it is wonderfully tasty and tender. A chipotle cream picks it up and an accompanying pile of cucumber and zucchini ribbons are fresh and summery and would have been perfect had they had a more acidic dressing.
The plateful of gnocchi at the hands of this chef is a thing of beauty. Pillowy-soft, each nugget is stuffed with a gooey mix of sharpish grana padano and eggplant with a sorrel pangrattato breadcrumb topping adding texture.
I barely got a look in with tasting the duck confit but a stolen forkful proved it tasted as good as it looked. A plum mustard and the bok choy that came with this dish took it to the Asian end of the flavour spectrum. And that's the great thing about the menu at Twisted Tomato - it is nicely varied with influences from European and Asian cuisines and, for the most part, is cohesive. The dish that held perhaps the most promise in words, the market fish, turned out to be the least successful in the eating. A generous serve of warehou was served with a lemongrass and chilli broth, which was a tad insipid, and udon noodles but it never really fired. The choice of Japanese noodles seemed an unlikely fit and the lump of coconut cream in the broth was bland with not enough of the chilli and aromatics to make it interesting.
A chicken salad was more successful, with crispy chicken skin acting like crackling, shallots and peanuts adding still more crunch, and watercress a fabulous choice to add pep to the mix.
We sat back, extremely satisfied after our mains and commented on how the food at Twisted Tomato is the epitome of smart-casual, much like the service, which is exemplary in its professionalism but executed in the most unobtrusive manner. Perfectly pitched for a local eatery.
We finished with two desserts that proved that this kitchen can be whimsical as well as complex. A panna cotta, gentle and just set, was scented with cardamom and orange and was almost savoury. A chocolate mousse didn't try to impress by being cloyingly rich, instead settling for being light and airy. Both were a fitting finish to what was a most pleasant evening eating "down the road". And guess what? At Twisted Tomato they take bookings as well as walk-ins!

For the good things in life on the go, download the Viva iPad app, free now at appstore.com/vivamagazinenz.