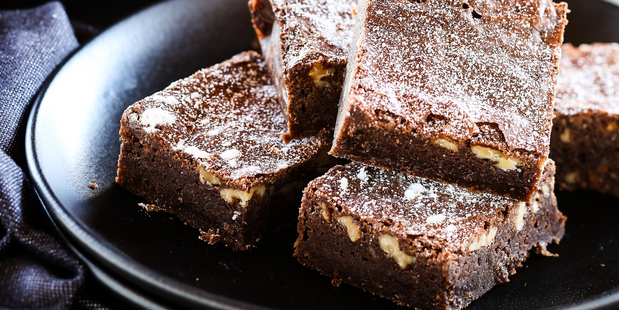 Chocolate Brownie. Photo / Babiche Martens.
Serves 20
• 375g dark chocolate
• 200g butter
• 2 cups brown sugar
• 3 large eggs, lightly whisked
• 1 tsp vanilla
• 1 cup flour
• 1 cup walnuts, chopped (optional)


1. Preheat oven to 175C. Grease and line a 20 x 30 cm tin.
2. Place chocolate and butter in a bowl over simmering water and melt. Remove from heat.
3. Add the sugar, eggs and vanilla.
4. Fold through the flour and nuts. Pour into tin and bake for 25-30 minutes, until firm around the edges and slightly soft in the middle.
5. Cool, then slice into pieces. Dust with icing sugar.


- VIVA