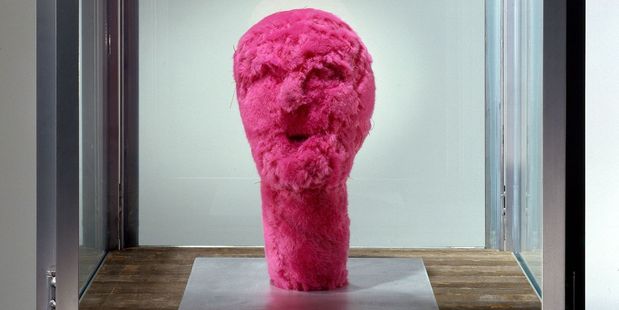 This week I've been obsessing about trainers and thinking about how you make art out of clothing.
The trainers thing was unexpected; I was given a pair of turquoise adidas ones a few weeks ago and very quickly gave into an impulse to wear them with everything. They work, too. Skirts, dresses, trousers, they make it all seem that bit fresher. Maybe it's the flash of ankle, but they're definitely putting a spring in my step, so to hell with the Melanie Griffiths in Working Girl associations. Good means more, though, so I'm now haunting various northern European outposts of Foot Locker, wasting precious holiday time stroking running shoes I could easily pick up in New Zealand.
What I can't get at home, though, is Louise Bourgeois. I never heard of this artist until I watched The Skin I Live In, Pedro Almodovar's beautiful, outrageous sex-change horror story. Her work is referenced there, in the context of gender, elasticity, identity construction and, well, skin.
I've read a bit about her since then, but I've never seen any of her stuff in the flesh, as it were, until this week. She gave a piece to the Irish Museum of Modern Art, and it was waiting for me when I walked in. Untitled 2001 is a head in a glass case. She made it out of one of her coats. It is a hot pink plush head, and it is something to behold. It was a long train ride to Dublin and a long schlep over cobblestones to the Royal Hospital, where the Museum is located, but Untitled 2001 made it all worthwhile.
It's not a fun piece, although plush pink is suggestive of hijinks. It looks like the head of an old person, a man, I think, and he doesn't look very happy. His eyes and mouth are shadowed; the latter is lipless and hidden by a bulbous nose, like a snowman's. He stares straight out of the glass case at you and there's something about the way his right cheek is puckered that suggests he's in the middle of telling you something, maybe something you don't want to hear, like a curse or a warning. You'll never hear what he's saying though; there's glass between you. The case he's in only serves to make him seem weirder. He's displayed like a specimen or a curiosity, but he's more than something curious, he's uncanny. He looks like a person trapped in coat fabric.
I very much wanted to touch him, just as I wanted to see the original jacket he came from. I wanted to see if there was something in the feel or construction of it that suggested him to the artist. I bet there wasn't. I bet he was all of her making.
It is not often you see clothes that are genuinely frightening these days, not since Alexander McQueen died, anyway. Untitled 2001 is not a garment any longer, but it is scary.
- VIVA
* Follow Noelle on Twitter here.