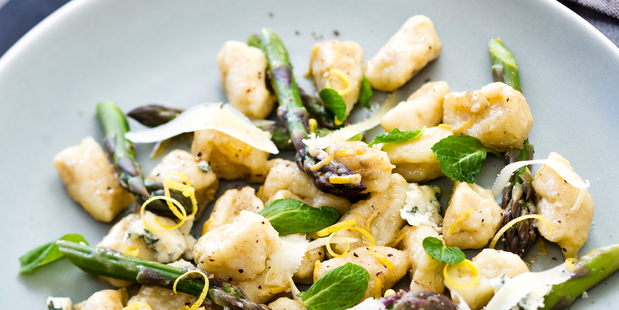 Serves 4
• 750g agria potatoes
• 250g flour
• 1 egg yolk
• 1 tsp salt
• 25g butter
• 1 lemon, zest and juice
• 80g blue cheese
• Salt and pepper
• 1 bunch asparagus, blanched
• 2 Tbsp shredded mint leaves
• Shaved parmesan, to garnish

1. To make the gnocchi: In a large pot of salted water, boil potatoes, skin on, until soft. Remove and cool until easy to handle, then peel away skin.
2. Either squish through a fine sieve, using the back of a large spoon, or use a ricer. Place flour on to a clean bench, place potato on top and add egg yolk. Using your hands, combine until you have a firm dough. You may need to add more flour if it is too sticky.
3. Cut dough in four and roll each piece into a long sausage shape, 1.5cm thick. Cut each into 1cm pieces.
4. Fill a pot with salted water and bring to the boil. Drop gnocchi into the water a small handful at a time and as they rise to the top, scoop out and set aside. If not using immediately, place into cold water to cool, then drain and drizzle with a bit of olive oil and store in the fridge until ready to use.
5. In a frying pan, melt butter until bubbling and add lemon, blue cheese, salt and pepper.
6. Toss in asparagus and gnocchi, then serve immediately with mint leaves and parmesan.
For more of Angela Casley's fabulous recipes, visit foodhub.co.nz
- VIVA