Although premium Bordeaux wines might be a little out of the price range of most drinkers, Jo Burzynska finds there are excellent cheaper options from a stellar vintage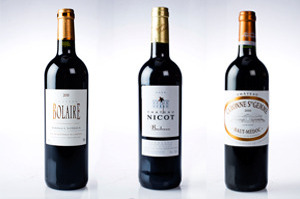 The top wines from the highly touted Bordeaux 2010 vintage have now hit our shores. I stopped by Glengarry just after it received its million-dollar shipment and watched as some of the world's most sought-after wines were unpacked for dispatch to their lucky recipients.
Given the huge prices at which these wines are now released, it's likely the closest I'll get to many of these prestigious labels. So what's the hype? And is there anything available to lovers of Bordeaux's classic French cabernet and merlot blends for which you don't have to pay top dollar?
"The 2010 vintage follows an excellent vintage in 2009, both of which will go down in history as the two greatest consecutive years in Bordeaux," says Glengarry general manager Liz Wheadon. "The number of wines rated 100 from these years is staggering."
Wheadon is one of the few people in the country to have had a preview of the wines at Bordeaux's legendary "en primeur" tastings before the wines were bottled.
"Both years were very hot, ensuring good ripening," she notes. "The 2010 weather pattern was a little different and they have great acidity and a structured fine line through them, real backbone. I really like the 2010 wines - to me they are what Bordeaux is all about."
However, she also acknowledges these were years when the pricing in Bordeaux dictated by its chateaux "went skyward". She cites Chateau Haut-Brion, a bottle of which could be bought en primeur in 2003 for $426.54. In 2010 buyers had to fork out $1789 or a staggering $3650 if they waited to buy it on the shelf.
And that's not the most expensive bottle in this latest shipment. That accolade goes to a magnum of Chateau Petrus, which would retail at a staggering $16,500 had it ever made the shelves. However, like much en primeur wine, it was sold well in advance, when the risk taken in buying unreleased wine is rewarded with a lower price tag.
For those who missed ordering the 2010s, some stock is still available. And if you're looking for Bordeaux on a budget, the overall quality of the vintage means there are actually bargains to be had at the lower end, where some of the petit chateaux have produced stunning wines.
That's where my money's at. Here are some of my picks at the affordable end of the Bordeaux spectrum.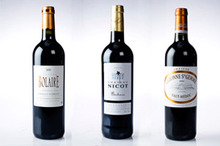 AFFORDABLE BORDEAUX
Chateau Bolaire Bordeaux Superieur 2010 - $26.95
There's a great purity and richness to the velvety textured blackcurrant and black plum fruit of this Bordeaux superieur, a classification that's a step up from the generic Bordeaux, requiring stricter controls. This great fruit is infused with notes of violet and a liberal dose of tasty oak.
Available through wineimporter.co.nz.
Chateau Nicot Bordeaux 2010 - $25
Another great buy, the Chateau Nicot boasts supple, smooth and ripe dark berry fruit, with hints of liquorice, supported by gentle tannins and bright acidity.
From Glengarry.
Chateau Caronne Ste Gemme Haut-Medoc 2010 - $33.50
A slight step-up in price, but still great value, this elegant, well-structured petit chateau wine possesses a fresh palate layered with dense dark fruit over a savoury undercurrent and notes of dried herb and smoke.
Find at wineimporter.co.nz.
New Malbrough Cellar Door Experience
Pioneering Marlborough viticulturist Mike Eaton and his wife, Jo, have started VinEssense, a new wine experience in the region. As well as offering cellar door-style tastings from local boutique wineries such as Churton and Odyssey, the couple are running more in-depth sessions providing an overview of Marlborough and its sub-regions.
The couple are well-qualified to offer an insight into the region, as Mike established his reputation by planting the region's first hillside vineyard, Clayvin, before starting the Terravin label with Jo in 1999. Both have since been sold.
In this new venture, he and Jo will share their years of experience in the local industry from the cellar door at their home overlooking Eaton Family Vineyard in the Omaka Valley.
For more details and to book one of their regular premium sessions or tailor-made tastings can be found at vinessense.co.nz.
-VIVA