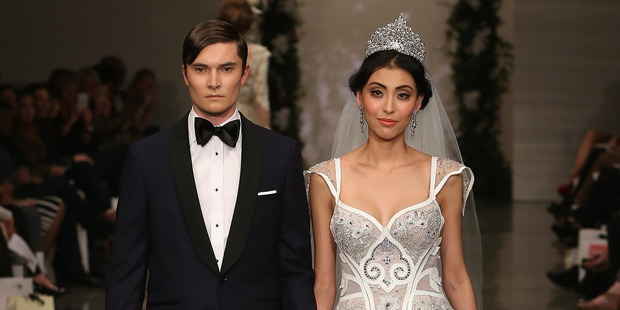 They say everyone loves a bride and the Weddings Show at NZ Fashion Week had a bride for everyone, with five designers offering their interpretations of what women might wear on their special day.
Sheath dresses, lace overlay and beaded bling were popular choices. Good to see that grooms weren't forgotten, with colourful segments from Crane Brothers and Working Style favouring trim two-button suits or traditional tuxedo jackets.
Vinka opened the show with four bridal outfits "circa 80s" veering from glam meringue to a Juliet dress and a crochet lace pants suit that reminded that while fashions have changed the best wedding looks should always remain individual. Her 2014 collection was more uniformly fitted, but with variation on sheath styling including caped sleeves, beaded bodices and tulle trains.
In a nod to the legalising of same-sex marriage, Sera Lilly showed a modern bride can also wear the trousers, sending one model down the runway in a lace gown and her partner in a matching lace top teamed with a satin pant.
A bevy of children, including Lilly's daughters, showed cute flowergirl dresses and a plus-size model wore one of the group show's few strapless numbers.
Alma Wong introduced oyster, ice blue and rich cream to the day's mostly white bridal colour palette, along with some boudoir styling, including feathering and shoulder sparkle. A cunning lace wrap cinched at the back to form a flowing train.
Robyn Cliffe's pretty lace snoods and headbands had a 20s vibe as did her rather relaxed fit. She also showed nude and blush pink.
The show closed with John Zimmermann's form-fitted couture-style creations, some with fluting, fringing and beading, but none more embellished than his final gown with its striking white leather appliqué.
- VIVA