Janetta Mackay heralds the start of spring with newly plucked floral fragrances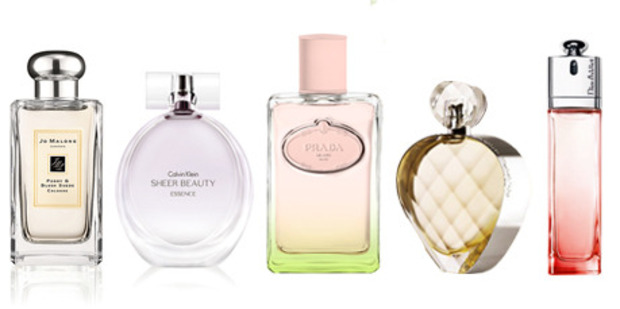 The best new season fragrances have sunny notes, warm and uplifting, like the promise of summer to come.
Much as I love a crisp green floral for spring, I've found good versions of these are hard to find without heading to perfumery's back catalogues, so why not surrender to fragrances with honeyed charms, as there's plenty of them out there.
1. Jo Malone Peony & Blush Suede 100ml cologne - $215
Peonies bloom briefly later in the season, but why wait for their fleeting glory? Master perfumer Christine Nagel has captured their delicate charm in a new Jo Malone fragrance due in store with the arrival of spring. With a crisp red apple opening, an opulent floral heart of jasmine, rose and gillyflower, and a "suede" note she has concocted to leave a lingering sensual trail, this is a fresh, feminine take on floral.
We're in love with the campaign imagery, which is a modern English eccentric interpretation of circa 1950s Cecil Beaton style.
Set the scene in your own ballroom or boudoir with the home candle ($130), or layer the fragrance with the cologne's matching body cream and wash.
From Jo Malone, Britomart, or ph 0800 506 7470.
2. Calvin Klein Sheer Beauty Essence 100ml eau de toilette - $149
Peony is also at the heart of this new interpretation of Sheer Beauty, which starts with delicate but definite nashi pear and peach top notes, before the peony unfurls, bunched with magnolia, lilac and rose, all underpinned with musks, vanilla and cedarwood From department stores and selected pharmacies.

3.Prada Infusion d'Iris L'Eau d'Iris 100ml eau de toilette limited edition - $164
Infusion d'Iris heralded something of a revival of powdery perfumes on its launch in 2007 and has since been brought out as an eau de toilette, a more intensely oriental Absolue and now this lighter L'Eau version. Inspired by spring gardens, it fuses iris extract with bay laurel atop a base of velvety woods. Throw in a hint of mint, some neroli, rose and orange blossom for a welcome waft of Tuscany.
From Smith & Caughey's and selected Farmers.

4. Elizabeth Arden Untold 100ml eau de parfum - $129
This jewel-like faceted bottle should prove bottled gold for Arden, with Untold being an instantly appealing sensual and modern fruity floral. It's warm and inviting and develops nicely on the skin, with pink pepper, bergamot, pear and blackcurrant giving way to jasmine and gardenia and a dash of patchouli in a creamy amber and musk base.
It's accessibly priced, thanks to two smaller sizes, plus a body cream and shower gel, starting from $59.
On counter from September 5 at Farmers and selected pharmacies.

5. Dior Addict Be Iconic Eau Delice 100ml - $203
Eau Delice is the new season's flirty little number for bright young things with money to burn. It's the fourth in the family, each centred on a particular flower: from Queen of the Night, through rose to freesia and now a concoction said to be the fruity accord of a sweet and sour cranberry. Mixed with jasmine, ylang ylang and white musk, this is more like cocktail fun than sampling a classic.
At selected department stores and pharmacies, also in 50ml.
- VIVA