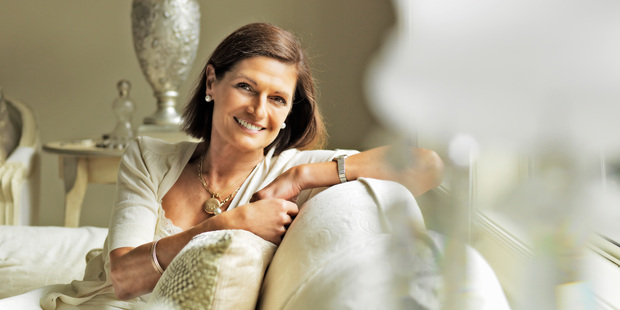 Meet our chic new monthly columnist Michal McKay, a woman who epitomises timeless style. Her career highlights have included editing Vogue Singapore and being vice-president and creative director worldwide for Aramis Inc, part of Estee Lauder, in New York.
She was also editorial director for NZ House & Garden and Cuisine, and was associate editor, fashion and beauty, for Vogue Australia, and fashion and beauty editor for Vogue New Zealand.
Michal, among other things, runs her own creative consultancy company, Maiki. She is a trustee of the Fashion Museum of NZ, is on the board of Look Good, Feel Better, and on the steering committee of the Pacific chapter of the World Child Cancer charity.
Each month Michal will share her tips on how to interpret today's fashion trends, and how to bring more elegance and style to your day.
Describe your personal style.
Simple, classic, but I like a touch of the unexpected and a surprise element.
This could be offbeat earrings, shoes in a sit-up-and-take-notice colour, or an unusual combination that goes against the so-called expected and accepted.
How has it evolved over the years?
I used to be an avid shopaholic so the odd disaster did emerge. These days it's far more a case of paring down rather than accumulation. And I do not spend nearly as much time pondering what to wear. I guess that comes from getting dressed for far too many years.
Do you have a signature style?
Not necessarily a signature - though I do have a predilection for black. But simplicity probably could be my signature. I am not good with fussiness and frills - I'm much more in tune with the uncomplicated. But good cut to me is vital.
Who are your favourite designers?
I developed a great fondness for the Japanese designers at the time they were emerging, as were the innovative boutiques in Tokyo. Kenzo, Issey Miyake, Yohji Yamamoto, Rei Kawakubo from Comme des Garcons are real favourites. And they were big when I was editing Vogue Singapore. When I lived in New York I developed a real liking for the US designers - Calvin Klein, Donna Karan, and Michael Kors particularly. All have that wonderful, classic approach to the female form, and Kors I especially like for his simple yet superbly sexy cut. Locally, I have a lot of Liz Mitchell and I also like Helen Cherry and Workshop.
What are your fashion essentials?
A beautiful white shirt, superbly cut black trousers, pearl earrings (big); ballerinas in abundance; only the best quality tights if you want your legs to look as good as they can be; a touch of unexpected colour, whether it be a big scarf, earrings, gloves. And, of course, a top quality bag.
What about beauty products?
La Mer is right up there. As is Prevage. Clarins for its body treatments and One-Step Gentle Exfoliating Cleanser; Clinique 3-step, eyebrow liner and Invisible Blend Powder. Bobbi Brown, Chanel and Lancome for their brilliant makeup. And, of course, Elizabeth Arden Eight Hour Cream.
What is the most treasured piece in your wardrobe?
Two really, and they are pieces of jewellery. A gold locket and chain that belonged to my great-grandmother, and a superb pearl my mother gave me.
Whose style do you admire?
Well, at the risk of sounding a little unoriginal, Coco Chanel in her day. Not entirely sure about the label these days though it is certainly innovative and I admire Karl Lagerfeld hugely. But the original Chanel was divine and her style was exactly the way I would love to dress: real individuality based on the simple, superbly cut, with a spark of something unexpected. A true expression of her personality. But she knew when to stop. And that is vital. One piece of surprise is enough, two looks overdone.
What is the one thing that every woman should have in her wardrobe?
Good lingerie - that's where it starts.
Anything else you'd like to add?
That wonderful adage, Keep it Simple, probably sums it up. But not to the extent of being boring - it only takes one touch to sharpen the overall effect, not an assortment.
- VIVA