Beauty editor Janetta Mackay finds beauty tips and products to help look your best on the big day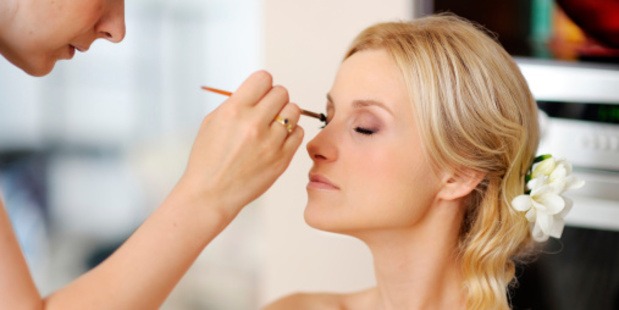 Brides gravitate to one of four beauty looks, says a makeup artist who has prepared plenty for their big day. There is the lover of the smoky eye, the woman who wants to wear next-to-nothing, the classic/debutante and the Malibu Barbie.
"Classic is always best," advises Sarahlee Russell, senior makeup artist at Bobbi Brown, Britomart, especially when it comes to flattering photographs. That said, a bride needs to ensure her makeup matches her personal style and the style of wedding service, while remembering that what looks hot in a nightclub might not always play so well in a church, marquee or on the beach.
Russell says some things don't change: "You need definition in the lashline, a pop of colour on the cheek and lips that show up in photographs." The latter can be a challenge for women who like nude lips.
"This can look like they haven't put on their lipstick," cautions Russell. She advises wearing at the very least a tinted moisturiser and a little rose-tinted colour. To get a lasting lip, try a stain or blot your choice of lipstick, perhaps adding crystal gloss on top.
For brides finding it hard to decide on a lip shade, especially if they normally favour bold makeup, an option is something softly elegant for the service and then ramp it up with red or a warm raspberry for the reception. Add extra eye makeup for an evening look.
Top tips:
• Drink lemon water the week before the wedding to clean your skin.
• Avoid a facial in the last few days of the lead-up; try a relaxing massage instead.
• Make sure at your makeup trial that you pin your hair in a similar style to how you will wear it at the wedding and remember to wear a top in the same colour as your dress, ideally with a similar neckline.
• Take photographs at the trial, so you can see what works and adjust the look accordingly.
• On the day, avoid sunscreens of SPF25 or above; they can create a ghosting effect when photographed.
• Use a translucent powder for a flattering finish (try Bobbi Brown Retouching Powder).
• Carry a touch-up kit on the day to ensure your look remains radiant. Russell's advice is to keep it simple, but her list is practical and includes lip balm (especially if you will be outdoors), plasters for blisters and painkillers. Her makeup must-haves are a pressed setting powder, lipstick and cotton buds.


Viva's wedding makeup picks: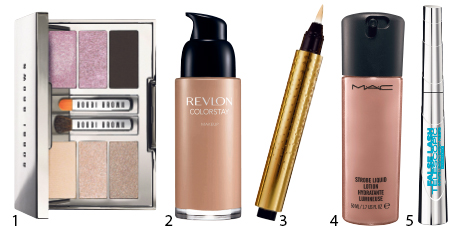 1. Bobbi Brown Limited Edition Luxe Palette - $125
If you're wearing white, sometimes neutral eye shades aren't enough, but you need to keep the look delicate. This special silver palette includes pink and lilac tints for an alluring prettiness. The six-pan palette can be bought empty (for $36), allowing you to create your own colour collection including lip, foundation and concealer shades. (Exclusive to Smith & Caughey's Queen St and Bobbi Brown, Britomart.)
2. Revlon ColorStay Makeup - $41.95
This comes in two formulas, lending a softly matte look suitable to both combination/oily and now normal/dry skins. The coverage is good, but feels lightweight. (Farmers, selected pharmacies and variety stores.)
3. YSL Touche Eclat Collector Edition - $76
The famous highlighter brush helps disguise dark circles and brings radiance to facial features and contours. From mid-August it is available in a special limited edition dimpled gold pen designed to reflect light, like its contents. (From selected department stores and pharmacies.)
4. M.A.C Strobe Liquid Golden Elixir - $70
Strobe gives a lovely radiance and this new golden shade will add a natural-looking glow to wintry skin. It is lighter than the original Strobe cream, but can be mixed with your foundation or applied separately. (From M.A.C St Lukes, Britomart, Botany Downs and Smith & Caughey's stores.)
5. L'Oreal Paris False Lash Telescopic Waterproof Black Mascara - $29.99
This contains micro-stretching fibres that bind together to build up lash intensity in a formula that stays put all day. (From department and variety stores and selected pharmacies.)