As Karen Walker celebrates 20 years in retail, she takes a look back at some of her memorable campaigns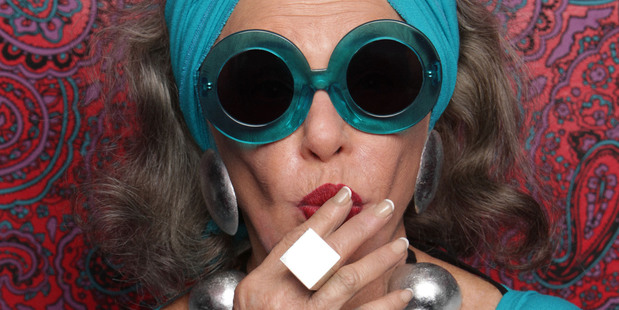 Twenty years is a long time in fashion, and even more so in retail. Karen Walker's flagship store has stood on the corner of Balm and Nuffield Streets in Newmarket for 20 years, with the designer celebrating the milestone this month. To mark the occasion, Viva chose some of our favourite Karen Walker campaigns through the years and asked her to tell us the stories behind each - from the KW Colonel to ladies with Advanced Style.
KAREN WALKER IS COMING, 1993
When we opened our first store in Newmarket on August 19, 1993, Newmarket wasn't quite the Newmarket we know now. It was our store, KFC across the road where the ASB now is, and nothing else immediately around us. At the other end of Broadway was Route 66 and in between were Country Road, Saks and Workshop.
That was the best Newmarket had to offer at the time and we were alone on the corner of Nuffield and Balm Streets in an old hospital laundry building.
When it came to communicating that we'd opened a store, we didn't need to tell people who we were as we had a following already. Instead we had to focus on telling them where we were.
Right from the start we wanted to subvert. We understood the business we were in was the business of image-making and ideas, not just clothes. So wanted to tell people where we were in a subversive way.
What better way to do this than to play off KFC, which was a Newmarket landmark of some decades? It was about taking on the mundane and the establishment and turning it into something interesting. Mikhail drew our version of the Colonel while sitting at our dining room table.
As part of the campaign we also did radio ads on bFM where we had people ringing KFC for a week asking for Karen and being told there was no Karen there, then after a week I phoned and asked if there were any messages for me. The whole thing was about subverting KFC and creating a new landmark. I guess it worked because we're still there.
Take a look at Karen Walker's campaigns.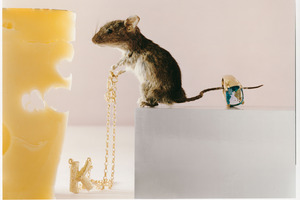 LORRAINE WITH KNIFE, 1994-95
This was the second in a series with Lorraine Downes. At that time, her presence in the social memory was very much still as Miss Universe and then as a Mrs All Black. Again, we kicked against that, doing just about the most opposite thing you could imagine to Lorraine's then-image as this very feminine, drop-dead gorgeous beauty queen. We subverted her image, recreating her in an almost trannie sort of way by taking the famous Robert Mapplethorpe image of a classic American 50s hoodlum and camping it up with this famous beauty queen. Brent Lawler did the hair and Karl Pierard shot it.
SUPERHEROES, MID-1990s
This was an extensive series we shot with Derek Henderson. It was a tongue-in-cheek look at fashion as being something with superpowers. The whole series was shot in stark black and white, and overlaid with bright orange. I remember at that time standing in a queue at a paint shop and overhearing the woman in front of me asking for "Karen Walker orange". Not only was that the first time I considered we should get into the paint business, but also the first time I realised we'd moved from being merely a label to being a brand.
RECIPES, LATE 1990s
A series we created in the late 90s. Again tongue-in-cheek, and playing with the idea that we could offer more than fashion. It was a series of recipes for cakes and meals. We shot it with the model, Alana I think her name was, sitting at my Formica desk. We shot the series with Peter Bannan; Aaron de Mey did the hair and makeup. We also applied the images to plates and hung them in-store that way.
DADDY'S GONE STRANGE, 1998
This was the first collection and image that put us on the map in New York City. Again, with Peter, Aaron and Alana.
We wanted to create an Eraserhead type of character. The collection was all about impeccable tailoring that gets warped and twisted. We showed this collection in Hong Kong in 1998 and it was snapped up by a showroom in NYC and subsequently bought by Barneys New York. Madonna performed in pants from this collection and made them famous.
JEWELLERY WITH MOUSE, 2003
Karen Walker Jewellery turns 10 next month, and this was the first campaign. Katie Lockhart did this series of whimsical photos with Derek Henderson. We purposely wanted to remove jewellery from the usual set-up. Jewellery until then hadn't been shown as a playful experience - it was shown as treasured heirlooms. We were taking gold and silver and stones and saying: you can play with it, you can have childlike experiences with it. It's not just for special occasions - it can be playful and whimsical and fun.
DICTATORS, 2006
This was our second eyewear campaign, photographed by Derek Henderson. The collection was influenced by dictators and world leaders - Robert Mugabe, Kim Jong-il, et al - and their apparent obsession with big eyewear. We wanted to challenge how eyewear was presented. At that time eyewear was shown fairly much as an extension of a fashion brand's image, with a beautiful woman or man, sweaty, on a beach or looking handsome in a suit or gown. Our subversion of this was a series of shots of young girls and guys goofing around and posing as global leaders on a podium covered with mics. The talent (and crew who messed around at the end of the shoot) all took to it naturally.
It was the first time that we saw that the eyewear allowed people to play at being someone else.
Dazed and Confused magazine loved the story so much they wrote about it weeks before it even came out.
KAREN WALKER FOREVER, 2012
With Viva asking us to look at archival images, it's got us thinking about how we've always challenged what's around us. Our latest eyewear campaign, shot in New York City by Ari Seth Cohen, challenges the perception of optimism by highlighting four ladies who, while senior in years, remain optimistic and uplifted in their points of view.


YOU'RE INVITED
Viva is delighted to be co-hosting a party with Karen Walker on August 14 to celebrate the Newmarket boutique turning 20, and we have 20 double passes to give away to Viva readers. To enter, see vivagiveaways and enter the keywords Karen Walker on the VIP Viva page along with contact details. Entries close at 11.59pm on Sunday, August 11. For terms and conditions see the website.