From over the seas come these covetable items to add to your cosmetic kit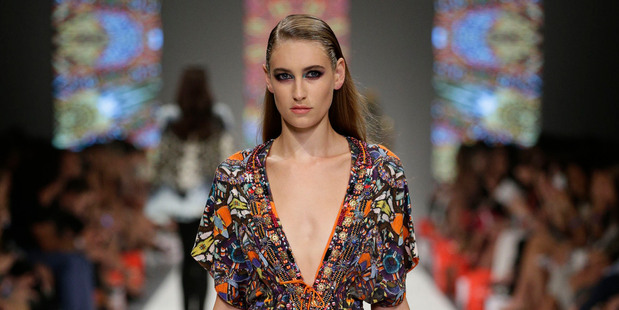 Check out Viva's product picks
The world's your beauty bazaar and, with the whole global traveller look set to continue as a fashion and cosmetics trend in the seasons ahead, it is easy to adopt an eclectic approach to your appearance. Conscious consumers are increasingly looking to find ethical ingredients in their products, while those with a high-tech or aspirational bent may simply want the best the international marketplace offers. Here are the latest lines that epitomise these approaches.
INDIA
Shanti Oil - $45
Instead of perfume try wearing a calming treatment oil that not only offers aromatic appeal but also contains herbal ingredients said to balance moods.
This ayurvedic product is grounded in organic sesame oil and also contains narangi (orange) oil, lavender and white sandalwood. It is sold with an ornamental pink glass bottle and can be used as a fragrance, to inhale for an instant uplift or as a massage oil. (Spa Ayurda, 213 Ponsonby Rd. spaayurda.co.nz)
PARIS
Guerlain Terracotta 4 Seasons Bronzing Powder - $131
A bronzed look is de rigueur for the jetsetter and Guerlain's is the bronzer of choice, imparting a healthy glow from its fine powder formula. First-class packaging seals the deal. Creative director Olivier Echaduemaison says it take just three seconds to get a three-week tan by tracing a figure 3 on each side of the face, from the forehead down towards the cheeks, then down along the jawline to the chin and down the neck. For a finishing touch apply a little more powder to raised areas where the sun strikes: the forehead, nose, cheekbones and chin. (From Smith & Caughey's Queen St.)
LONDON
Butter London Jack the Lad nail polish - $30
Green is the Pantone colour of the year and Butter London has taken the trend to glittery heights with this polish, one of five green shades in a new seasonal collection with London-inspired names. There's also an ideal-for-winter olive shade called Sloane Ranger. (From selected gift stores, boutiques and salons, for stockists ph (09) 528 5653.)
NEW ZEALAND
Tender Love + Carry Punchy cosmetics purse - $14.99
This cut-out design teal bag with an orange lining is a compact way to carry cosmetics, but with its zipped side compartment it could easily double as a purse come passport holder. Designed in Auckland and perfect for the savvy Kiwi who likes to travel economically, but in colourful style. (From selected department stores and pharmacies.)
AUSTRALIA
Becca Ultimate Matte Lip Colour in Josephine - $55
Perth-based Becca is a cosmetic company that carries well. The products are slick and modern, the colour palette is mostly natural, adding up to a very wearable result. This slimline lipstick is in a versatile brick-red shade that warms up the complexion, with a moist but matte formula that will go the distance. (From Glamorpuss, Newmarket.)
LOS ANGELES
Stila Stay All Day Waterproof Liquid Eye Liner in Periwinkle - $42
A boldly outlined eye is one of the oldest and strongest of beauty statements - witness the Middle East where kohl-rimmed eyes gaze from behind the veil. Try the look in a new hue, with Stila's stay-put pencils in a surprising limited-edition shade of blue. The innovative formulas are always fashion forward and perform well. Trace Liquid Eye liner finely along the upper lashes or for a softer smokier look, combine with the Stila Smudge Stick. (From Mecca Cosmetica, meccacosmetica.co.nz)
TOKYO
Shiseido White Lucent Power Brightening Mask (pack of six) - $115
A box of mask sachets are great for travellers, helping revive skin after dehydrating flights. No one does masks better than the Japanese, who pioneered the use of disposable cloth and paper ones infused with skincare ingredients. Shiseido takes the technology to a new level, with vitamin-rich brightening ingredients that target melanin. The stretchy mask fits snugly, allowing the ingredients to penetrate well.
MOROCCO
Moreish Body Lotion - $24.99
Argan oil has grown to be one of Morocco's most well-known exports, taking an ingredient used locally on hair and skin for centuries to the wider world. The Moreish range uses oil sourced from Berber women's co-operatives in an everyday skincare range made here to suit local needs. This body lotion and a handcream ($16.99) supplement facial care products. (From Amcal, Unichem, Life and Radius pharmacies.)
- VIVA