Address:
SkyCity Grand Hotel, 90 Federal St
Phone:
(09) 363 6278
masu.co.nz
Cuisine:
Japanese
From the menu:
Edamame $6, Salmon and tuna tartare $24.60, Chicken wings $8.30, Baby back pork ribs $28, Spinach salad $8.60, Yellow belly flounder $30.30, Broccoli $8.30, Kumara $7.60, Black cod $48, Chocolate and hazelnut pudding $18.90, Chawan mushi dessert $14.30
Drinks:
Fully licensed
Rating:
7.5/10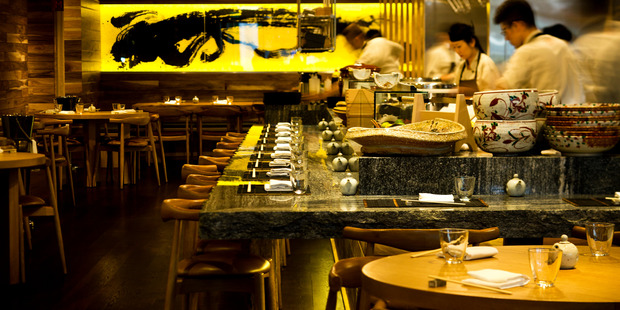 Phenomenal. That's how I would describe the design of SkyCity's new restaurant, Masu. The majestic curved dining room, the low-slung ceiling creating intimacy, the impressive open charcoal grill, the thick-slab marble counter and slender pale timber dining room furniture. It's beautiful. I'd long been hearing that this restaurant would take dining in Auckland to a new level and now that it has finally been unveiled I wondered if the hype might just prove true.
The man fronting SkyCity's latest restaurant is chef Nic Watt, and he's no novice. He's been at the helm of setting up Japanese robata-style eateries the world over, under the Roka brand, and he's built a reputation for excellence in doing so.
Housed in what was previously the open foyer and bar space of the Grand Hotel in Federal St, guests are greeted at the huge glass doors and guided gently to where they will be most comfortable. For us, that's at the robata counter, in full view and within range of the warm glow from the embers. But before you envisage a rustic hearth-like setting where the smoke from the fire hangs low in the air, think again.
This style of cooking uses the premium charcoal, binchotan, prized for burning hotter than any other charcoal while not producing smoke and it involves layers of gleaming steel racks holding skewered food in place over the coals, with a team of chefs intently shifting and moving, basting and re-basting the morsels to carefully regulate the temperature until each is cooked to perfection.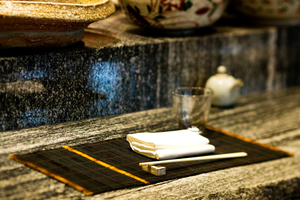 From the full section of robata-grilled dishes on the menu, we got stuck in and ordered a few - the highly acclaimed black cod, chicken wings, kumara and broccoli and baby pork ribs - and while we waited we were treated to a visual feast by the sushi chefs crafting fantastical sashimi plates.
We kept our growing hunger in check with two of Masu's signature dishes, a salmon and tuna tartare and a yellow-belly flounder from the tempura section. When our little box of tartare arrived, looking like a cute solar panel propped up to catch the rays of our appetite, we dove in, smearing salmon and tuna on the gorgeous fried rice crackers. Bright orange caviar bubbles burst into salty flavour in our mouths and we loved the way the rice crackers stuck to our teeth. We were in heaven.
Then the flounder arrived and disappoint- ment struck. It was presented imaginatively but overcooked and destroyed by a panko crumb. Where was the promised queen of all batters, tempura? Since visiting some of the small tempura restaurants in Japan I've loved this style of cooking, so was looking forward to Watt's version, knowing the light crispy coating would have perfectly suited the delicate flounder flesh.
By now our robata dishes were starting to appear: small dishes of tender broccoli stems and thick slices of kumara basted with teriyaki, then the big ticket item, black cod. The thick cut comes wrapped in an enormous leaf, magnolia I believe, skewered with a young ginger stem, as striking in its bright red colour as in its fiery flavour.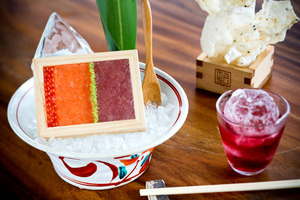 The fish is moist, flaky, sweetened by the careful basting of miso and offering a slight citrusy tang from yuzu. Was it one of the best pieces of fish I've ever eaten? If it had been, I suspect I wouldn't have noticed the price.
We carried on, getting our fingers sticky with gorgeous baby pork ribs and succulent chicken wings glazed with a mix of ginger and mirin, but at the end of it all I couldn't help myself ... despite the fact that I know this style of cooking relies on the high-quality charcoal not imparting a smoky flavour on the food, I wanted more flame in my food. Or perhaps I just wanted more flavour in general.
Desserts, however, left no questions; a silky chawan mushi with mango, lychee, passionfruit and coconut was as divinely delicious as it was pretty and a chocolate and hazelnut pudding was original, having been cooked in a cedar box that imbued the rich and gooey sponge with subtle woody notes.
Auckland has some great little raucous yakitori bars where the food eats really well, for a quarter of the price of a meal here. What sets Masu apart is the attention to detail and its elegant, yet welcoming interior which combine to elevate Japanese dining in our city.


- VIVA