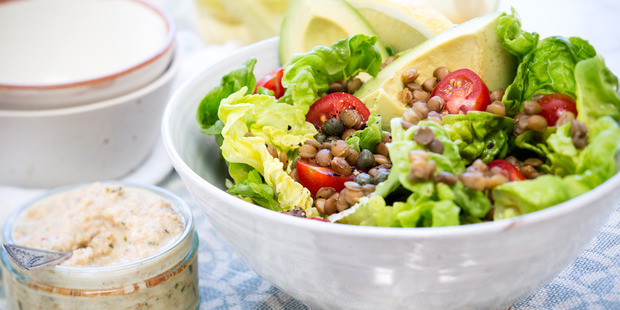 Caesar Salad. Photo / Babiche Martens.
Caesar salad
Serves 4
Dressing
• ¼ cup pine nuts
• ½ cup macadamia nuts
• 3 dates, each cut into 3
• ¼ cup basil leaves
• 1 clove garlic
• ½ cup coconut water
Salad
• 2 baby cos, washed and separated
• 1 cup cooked lentils
• 2 Tbsp capers
• 15 cherry tomatoes, cut in half
• 2 avocados, halved
• Lemon wedges to serve
1. Soak the pine nuts in cold water for 4 hours. Then add the macadamias for a further hour.
2. Into a blender place the nuts, dates, basil, garlic and coconut water. Blend until well combined into a creamy dressing. If a little thick add a bit more water.
3. In a salad bowl place the cos leaves, lentils, capers and tomatoes. Toss through the dressing. Serve on individual plates and top with half an avocado.
4. Serve with lemon wedges.


- VIVA