Take a shine to these sophisticated ways of catching the light, writes Janetta Mackay.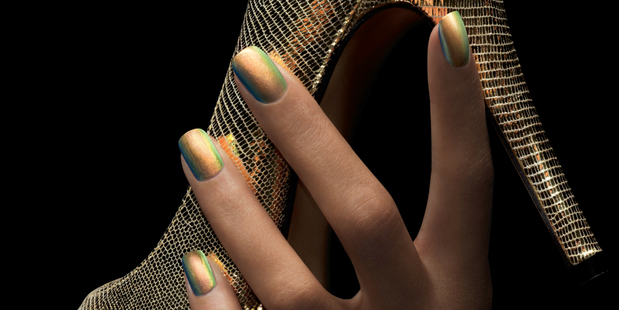 My mother's wedding dress was made of moiré- taffeta, a silk fabric with a distinctive rippled, lustrous look. I still have it and a sample of the matching bridesmaids' fabric chosen for her two redheaded sisters in a magical shot weave that ranges from teal to bronzy mauve.
Similar reflective fabrics are big news in fashion at the moment, ranging from shiny cyber-punk stuff to lush brocades. Plenty of both have been seen on the runways overseas and at New Zealand Fashion Week's preview of next winter's designer collections, tracking the transition of shine from special occasion to everyday wear.
No wonder, then, that this trend is showing up in the beauty world, where moiré and pearlescent finishes are big news.
It's all about imparting luminosity, which suggests both youth and glamour. From light-reflecting foundations to iridescent highlights, a little carefully applied brightness is uplifting.
A multi-layered approach to encapsulating pigments and metallics within makeup formulas is bringing a more translucent, less heavy-handed approach to putting on the glitz.
Shimmer has a new sophistication. Try some of these grown-up takes on the party season's strongest makeup must-have.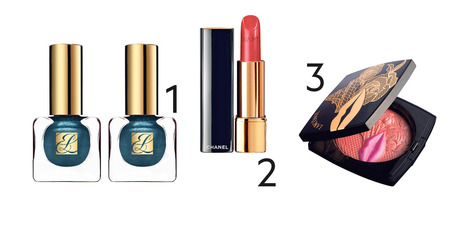 1. Revlon Chroma Chameleon Nail Enamel $17.95 and Estee Lauder Pure Color Vivid Shine Nail Lacquer $32
Two especially good examples of the multitonal, dimensional effect of modern metallics. Revlon layers colour pigments in such a way that they give a chrome effect, appearing to change colour when light refracts through them, as seen in this example and the page's main image.
Lauder's polish mixes crushed pearls and aluminium platelets for a brushed, reflective finish and is in The Metallics, a collection that takes in metallics for eyes and high-
shine lips as well as nail shades ranging from dusky rose gold to smoky platinum. The nail polish is available in eight shades for a limited time.


2. Chanel Rouge Allure Moire in Impulsive $59
Mother-of-pearl in varying tones and sizes has been added to the eight Moiré versions of Chanel's signature lipstick, giving each a subtle iridescent effect on top of intense luminous colour, including this limited- edition red shade. The click-top canister is a beautifully designed bonus. Available at selected department stores and pharmacies. Stockists ph 0800 957 352.


3. Lancome L'Absolu Blush Rose Desir $77
Light-infused orange and pink-toned blush shades will bring that just-kissed flush to your cheeks. Use the orange tint to add dimension, then the pink on the top of cheekbones. From Lancome's latest makeup collection, this blush and the lipsticks are a postcard from Paris, decorated with the Eiffel Tower and Lancome's rose emblem. Available at selected department stores and pharmacies.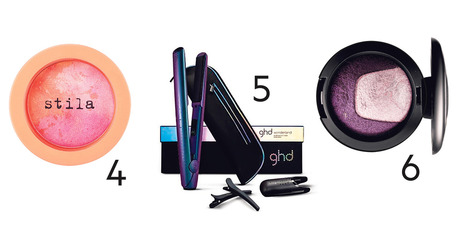 4. Stila Countless Colour Pigments in Lyric $39
Sunset shades of pressed pigment swirl across this little container. Pick out individual colours, or sweep a brush across the lot. Depending on which of 10 pottles you pick, apply to cheeks or eyes. From Mecca Cosmetica stores, or meccacosmetica.co.nz.


5. ghd V Wonderland Styler $329
Even beauty gadgets are getting a metallic makeover as this limited edition styler with a cool blue and lilac holographic look, shows. The styler comes with its own bag which unzips to become a heat-resistant mat. There's a matching ghd air hairdryer or buy the pair as a boxed gift set for $450. The styler's barrel allows for both straightening and the relaxed curl that is a winning style for evenings out. Stockists ph 0800 880 209.


6. M.A.C Divine Night Mineralize Eyeshadow in Past Midnight $55
This pearly pink frost matched with a violet pearl is an eyeshadow duo that lets you integrate or contrast mineral colour. It is from the new Divine Night collection, which has disco diva drama in illuminating blushes and powders and pearl-flecked examples of M.A.C's Fluidline gel liners and kohl pencils. From Smith & Caughey's Queen St, Newmarket and Farmers Centre Place, Hamilton and M.A.C stores at Britomart, St Lukes, and Botany.


- VIVA