They say it is the people we surround ourselves with who keep us young. We talk to four fabulous women about the importance of friendship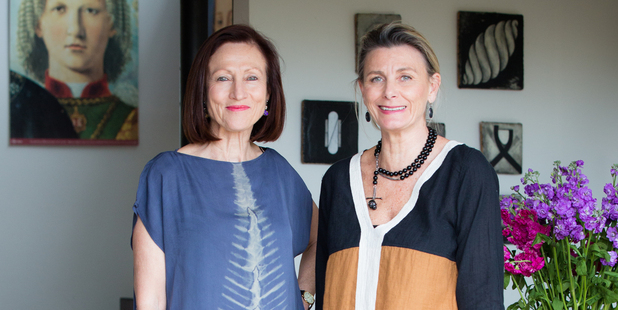 YOKE HELWES-MARTENS, late 60s
Born in Amsterdam during the war, Yoke's mother would deliver anti-Nazi pamphlets, hiding them in Yoke's pram. During the day she looked after small children for the Catholic Church, providing food and shelter. Her parents owned a shoe store on the Kalverstraat, the elitist shopping street in Amsterdam, and Yoke became a window dresser, a job which later took her to Dusseldorf and Paris. In the 70s she and her husband, with three small children, came to New Zealand. She took a course in ceramics in the 1980s which later developed into a business, and in 1994 she turned her interest to textile art. Her textile works have been exhibited in America and throughout New Zealand. She travels yearly back to Europe to see family and friends and to gather inspiration and loves being Oma to her two grandchildren, with another on the way.
Best thing about ageing?
If something doesn't suit me I've finally learnt the ability to say no (sometimes).
Worst thing?
Your head goes full throttle but your body goes half speed.
Wisdoms?
Don't get hung up on wrinkles - I think wrinkles are beautiful, they tell the story of your face, they are your laugh lines. Acceptance is the main thing; acknowledge that you are getting older and realise your limitations. Keep active.
Secret to vitality?
My Dutch sense of humour, which sometimes falls on deaf ears here in New Zealand. But Missy always gets it!
Tell us about your friendship with Melissa (Missy)?
Our friendship began when our kids went to Playcentre. We always joke that in our previous lives we were sisters. We are both artists and work together at the Art Table weekly workshops at Dove House in the Eastern Bays Hospice. The workshops are art and healing therapy - they give people a chance to relax through art. We work in watercolour, clay, mandala and collage. I've learned a lot about Missy through these classes. I love her energy and enthusiasm.We have a good understanding and trust with each other, and a good dynamic.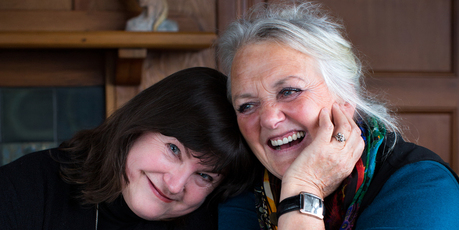 MELISSA ANDERSON SCOTT, 60
Melissa Anderson Scott was born in Chicago, Illinois and studied fine art at the University of Wisconsin-Madison. After working as an artist for a Chicago newspaper, she met and married her Kiwi husband, Graeme. They eventually moved to New Zealand and raised three children. It was at the local Playcentre that she met Yoke Martens and began a great friendship.
Melissa began exhibiting her work in 1990, in Auckland and the US. Her work is held in public and private collections in New Zealand, the US and Europe. She and Yoke run the Art Table at Dove House, and she also runs Cloud Workshop with photographer Deb Smith. Cloud is an art-based workshop for bereaved children or children with a family member with a life-threatening illness. In the last two years, Melissa has been illustrating a children's book, A is for Auckland, which will be published by Random House in November.
Best thing about ageing?
I can draw on more experience to guide me. Sharing history with old friends makes for meaningful relationships. When you've been through lots of things together, you quickly work out who are the quality people.
Worst thing?
I can't remember!
Wisdoms?
As I would approach a milestone, my mother would say, "Oh, that's a great age. I had fun at that age." So I was lucky enough to inherit a positive attitude towards the future. I owe my extremely positive parents a debt I can only repay by passing it down the line.
Secret to vitality? Laughter! It's such a funny world ...
Tell us about your friendship with Yoke?
I met Yoke at Playcentre, where we often met over the collage table with our young children. We both felt a "click" of kinship, we had many things in common and were fairly new in New Zealand. We have been working together for the past four years. What a bonus for me that I get to see a friend every week! I know I can rely on her sensitivity and judgement while providing an art experience for people in the midst of loss and grief.
Yoke is an extremely creative person and has talents in many areas. Watching her, I am reminded to try things a different way, to just get on and give new things a go, and always to be honest, honest, honest in my dealings with myself and my world. I feel so lucky to have washed up on these shores when she did.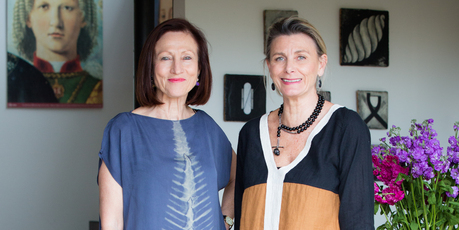 ANNE WILSON, 58
Born and raised in Wellington, Anne moved to Auckland two years ago after living in Christchurch through the 2010 and 2011 earthquakes, and relocated her design store Annex to Ponsonby Rd. Mother of two, she remarried last year to her partner of 13 years. "I seem to have been in the interiors or fashion business all my life, usually at the creative end or in retail. I should be slowing down but my business keeps growing and now, along with my shop, I am making and exporting my Travel Wardrobe paper dresses to the US, Australia and Europe."
Best thing about ageing?
One cares less about what others think.
Worst thing?
Unreliable memory, eyesight and hearing.
Wisdoms you would pass on to other women about ageing?
I don't feel wise enough yet. I feel I learn a lot from the young women today.
The secret to your vitality?
Staying active. Having one's own business requires a lot of energy.
Tell us about your friendship with Hannah?
Hannah has been a great supporter and fan of my endeavours since I met her in Wellington in about the mid-90s. She is brave and courageous, and an absolute whirlwind of energy. She has helped me enormously getting established in Auckland with her enthusiasm and amazing network of friends and contacts. She is also the best yoga teacher and her post-class relaxation is pure bliss.

HANNAH HOLM, 65
Hannah Holm describes herself as a jack-of-all-trades. In the 70s she owned secondhand store Last Resort on Ponsonby Rd. She was part-owner of a wallpaper business, worked as photographer and in 2005, published the book Contemporary NZ Photographers. Hannah was also part-owner of Parnell restaurant Metropole, has imported fabric from Asia and produced clothes, worked in art galleries as a dealer and is a yoga teacher.
Best things about ageing?
Caring less about the small stuff. Being more philosophical.
Worst things?
Watching friends with health issues suffering; death and dying.
Wisdoms?
Stay interested and involved. Kindness, being useful, being happy, keeping a sense of humour. The joy and importance of family and friends.
Secret to vitality?
A positive attitude. Taking care of myself. Teaching yoga and meditation.
Tell us about your friendship with Anne?
I met Anne in Wellington in the 90s and admired her talents, and we shared interests in fashion and interiors. Anne managed Scotties in Wellington for five years with great flair and confidence. When she opened her store in Christchurch, I spotted her first paper dress and asked who the artist was. It was Anne - and how successful it has all been.
I am a great admirer of her talent, intelligence, courage and humour. Anne has always been a loving, kind and supportive friend.
- VIVA