Nature and architecture are linked in a visually compelling exhibition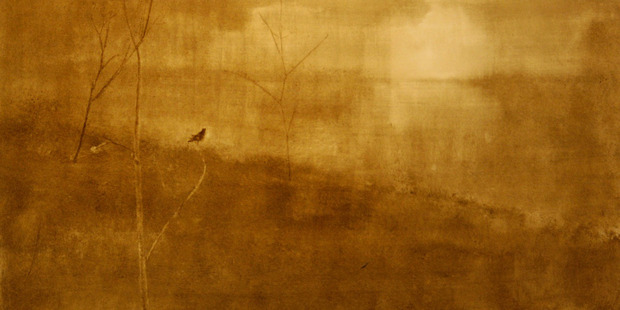 It is autumn and art in Auckland this week is full of sepia shades. The interaction between architecture and nature is the subject of photographer Gavin Hipkins, whose work occupies the two large rooms of St Paul Street galleries at AUT.
Hipkins has often engaged with architecture throughout his extensive career. Here, he is concerned with the transience of even the most utopian buildings, as well as the absolute need for human interaction with nature and construction.
These themes give weight to the 20-minute experimental film The Port. It cuts quickly between sharply defined natural settings such as sand dunes with patterns of cabbage trees against the sky, or the image of a rocky vertical cliff beside a river with a precipitous pathway and a narrow bridge, to abstract luminous spheres of light. These are intercut with images of modern housing developments. There is lots of evidence of human building activity but never any people.
The accompanying soundtrack is not specifically related to any particular image. It is read, soulfully, by Mia Blake, from H.G. Wells' dystopian novel The Time Machine. The effect of the soundtrack is to emphasise the sense of recounting a vision or a dream.
In the other gallery we have Leisure Valley, a large installation of 46 photographs of details of buildings in the Punjab city of Chandigarh in India that Hipkins has visited several times.
This was the visionary city the famous architect Le Corbusier designed, although only the administrative centre, begun in 1951, was completed. It is cut off from the city itself by surroundings of bush. These government buildings have some of the upward curving roofs found in Le Corbusier's chapel at Ronchamp with the modular forms of his Unite d'Habitations, the "machines for living" at Marseilles and elsewhere.
This impressive set of large photographs does not emphasise the original bright glitter and hope of the project but the melancholy effects of time on its details. The nature and effect of the changes is emphasised by the prevailing sepia colour and the transience by being printed on newsprint. This is relieved by occasional blocks of pure colour. But, for the most part, dark plain blocks suggest the unseen past and future.
Some images are very rich, as when a rose is partnered with a fortress-like tower. Others are bleak, such as when a tower, pierced by circular openings, is shown from within and without. A building of absolutely identical forms stretching into the distance is utterly soulless. The subjects, colour and materials make this a visually compelling and thought-provoking exhibition.
At Orexart, Angus Collis, a New Zealander who lives and works in Spain, also uses soft brown colours and bitumen pigment to suggest memory as well as light and place. Often his paintings are scrubbed back and blurred or overprinted with material blotted on to his paper or canvas to transfer textures and patterns.
All this is in the service of suggesting atmosphere rather than particular places although there is one image of Te Mata peak that gives a grand sense of the height of the scarp face.
After that the range is from Small Bird, which shows a tiny shape isolated by light, to Prison Break, a large painting with converging lines balanced by tall verticals and an uneasy sense of sombre buildings in the distance.
One unusual work is a painting of an exceptionally large swimming pool with lanes converging in perspective and curious stains on the surface. These confident and complex works share a feeling of being open to metaphorical interpretation.
The exhibition is shared with painter David Weir whose time living in Australia has always led him towards dark browns approaching black with glimpses of intense light. This show, called After the Burning, has much more emphasis on surface. The light plays patterns in front of a rich and varied ground of ochre and black done in ink. It is a dance of silk-screened ribbons of light. The effect has a strong element of Aboriginal art but its rhythms are modern and dynamic.
Australian Locust Jones has one of his block capital shouts in the window at Whitespace. He also shows Meltdown, a passionate example of his long drawings displaying everything from Duchamp's urinal to urban protest.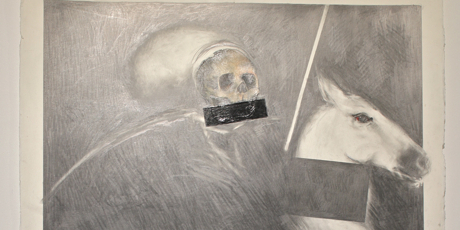 The exhibition also has a series of deft sculptures of leaping fish by Bing Dawe. An extraordinary wave of steel tins represent images of canned whale meat by Graham Bennett and Ross Ritchie offers a powerful graphite drawing of a ghostly rider on a pale horse. It is a show where nothing is held back or timid.
At the galleries
What: Leisure Valley and The Port by Gavin Hipkins
Where and when: St Paul Street Gallery, 40 St Paul St, to May 17
TJ says: Gavin Hipkins comments on landscape and architecture in a short film that includes recent housing and a show of impressive photographs of buildings designed by Le Corbusier.
What: In Transit by Angus Collis; After the Burning by David Weir
Where and when: Orexart, 15 Putiki St, Arch Hill, to May 10
TJ says: Collins composes moody scenes from here and in Spain; Weir transforms his Australian experience into rich, dark paintings.
What: At Risk
Where and when: Whitespace, 12 Crummer Rd, Ponsonby, to May 17
TJ says: Vigorous painting, sculpture and drawing by artists who have a strong point of view.