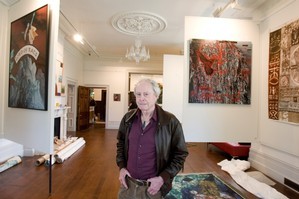 James Wallace started collecting artwork by emerging Kiwi artists about 45 years ago, but only now has his collection been given its first permanent home.
Until now, public access to the 5000-item collection has been through revolving loans in small galleries and places such as schools, universities and hospital wards.
But from this Sunday, the collection will be housed in the restored Pah Homestead at Monte Cecilia Park, Hillsborough.
It will be known as the TSB Bank Wallace Arts Centre and feature a programme of free exhibitions curated from the collection, touring shows, an artists-in-residence and an on-site cafe.
At a tour of Pah Homestead yesterday before the Sunday opening, Mr Wallace said he was pleased the collection had a permanent home on a "vastly bigger scale" than before.
"The majority of the collection though, almost half of it, is out on loan at any given time, on a revolving basis ... But we needed a space that could be open to the public on a regular basis."
He said despite having drawbacks - such as e many doors and windows - Pah Homestead was a great location.
After beginning to collect the artworks in the mid-1960s Mr Wallace transferred his collection to the charitable trust in 1992 so it could grow and support the arts in New Zealand.
Auckland City chief heritage adviser George Farrant said Mr Wallace had "galvanised" the council to give the $6 million to $7 million to restore Pah Homestead.
Mr Wallace said it was "a magnificent conclusion to the search".
Auckland City Mayor John Banks said he was delighted Aucklanders and visitors would be able to be inspired by contemporary New Zealand art in a setting like Pah Homestead and Monte Cecilia Park.
OPENING CELEBRATION
Everyone is welcome to Sunday's official opening, from noon to 4pm.
* 1pm to 3pm: 15-min art and heritage talks.
* 1.30pm and 2.30pm: Guided tours of the current exhibition.
* 1.30pm and 3pm: Tours of the park.
* noon to 4pm: Activities for kids, including face painting and a quiz in the marquee.
* noon to 4pm: Devonshire tea in the marquee.
* 1.15pm and 2.15pm: Music by Bach Musica Quartet in the marquee.
How to get there:
The main entry and carpark for the arts centre are off Hillsborough Rd. There are pedestrian entrances on Mt Albert, Herd and Korma Rds.
Normal opening hours:
From Tuesday, the TSB Bank Wallace Arts Centre will be open Tuesday to Friday from 11am to 4pm, and on Saturdays and Sundays from 10am to 5pm. Entry is free.