Keen to impress on Valentine's Day? Knock your beloved's socks off with a classic Gallic dish.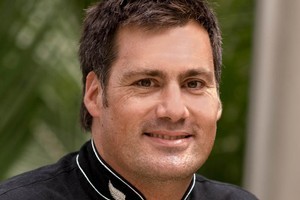 With Valentine's Day upon us, I'm pondering the theory that French lovers are best. Maybe it's something in their food.
So what do the French like to eat? The crisp, crackling shell of a baguette or French stick is surely one of the country's biggest food icons. This long, thin loaf had its origins in a 1920 labour law which prevented bakers from starting work before 4am. This made it impossible to have a traditional loaf ready in time for breakfast. But a longer, thinner loaf could be baked much faster.
Next on my list of French favourites is bouillabaisse, from Marseille, a delicious fish soup. It's a dish that, sadly, is often badly made these days.
It's all about the preparation, which should never be rushed. Fish is added during cooking, according to its size, with tomato, garlic and saffron. A good dollop of rouille, often made with roasted capsicums or tomato, is served on the side to enrich the fragrant stock.
We're basking in the heat at present, but come autumn a dish I really love is rillettes. It is often made with pork, but can also be done with rabbit or duck, and resembles a poor man's pate simmered in rendering fat, water and white wine. Once cooked, the aromatics are removed, the meat shredded, mixed with a little of the fat and plenty of seasoning. Delicious.
Escargots are, of course, synonymous with cuisine Francoise, and my French sommelier is fond of telling of an incident in which live snails were ferried into a kitchen in a wooden box, where they were left - and later found roaming the walls.
One of the best snail dishes I've eaten was by Aussie chef Stephanie Alexander - snails off the vine with walnuts, podded-pea mousse and garlic toasts.
But though snails have long been part of the French menu, the very "now" French ingredient for 2011 is vadouvan, a curry spice mix which originated in a French settlement in India. Vadouvan is a blend of spicy flavours such as roasted onions, shallots, garlic, fenugreek, fresh curry leaves and cardamom, which are loosely mixed to taste - and it can be frozen.
After that escapee escargot story, my French sommelier went on to tell me a more romantic tale, about a friend of his who was married on Valentine's Day in the Marquesas Islands, 1500km northeast of Tahiti.
Everything was running like clockwork until the groom discovered his wedding would have a rather unexpected finale.
The bride's relatives lay face-down in a row, in front of the newly-married bride and groom. The couple, now holding hands, left the wedding by gingerly walking over the human carpet. I only hope she took her high heels off.
Paul Jobin is executive chef of SkyCity Auckland