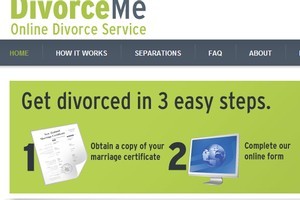 Founders of a website aiming to make divorces quicker and easier have hit back at allegations their site is tacky and destructive to families.
The website, named DivorceMe, was launched by a pair of Christchurch entrepreneurs and "looks to eliminate the time, lawyer's fees and legal jargon out of the divorce process".
National director of Family First NZ Bob McCoskrie slammed its launch on Valentine's Day as a "cynical" move.
"The website is simply a commercial venture to make money, cynically launched on Valentine's Day when we should be celebrating strong marriages and strong families," Mr McCoskrie said.
A statement from DivorceMe co-founders Aaron Pero and Andrew Bell said they were aiming to help couples who did not have a "happily ever after" story.
One in three New Zealand marriages end in divorce and their website was aimed at making that process less stressful, it said.
"We definitely aren't here to "promote family breakdown", we are simply here to provide a convenient service.
"It's a matter of convenience and a way to approach the situation in a much less emotionally strenuous way.
"I don't see how the website is destructive, if anything, it helps people move on with their lives."
Mr Bell said DivorceMe would help those who had experienced an irreconcilable breakdown in their relationship.
The website was not a "fast track" and couples would still need to complete a mandatory two year separation before applying for divorce, he said.
He was inspired to launch the site by experiences dealing with divorcing couples in his work as a lawyer.
"I saw that people were apprehensive about the process hence putting it off. With the people I had helped, their marriages had broken down well beyond repair and the only thing delaying the divorce was the complexity of the process and the cost."
- NZPA and NZHERALD STAFF