Do you have something unique planned for Valentine's Day? Email editor@hos.co.nz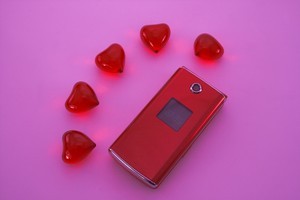 A bored teen sent a random text to a random number not knowing if anyone would reply. Stephanie did and now they are in love. Is there a better romantic story on the eve of that most romantic of days, Valentine's Day?
Lloyd Ramsey was at boarding school in Dunedin when he and his friend decided to start texting random numbers just to see who would reply.
A text came back from Stephanie Moore, an Auckland 17-year-old.
Lloyd's first text said: "Hi how's it going?" Moore replied: "I'm good, Steph."
"June 5 will be our sixth anniversary since that first text," she said this week. "First came like, then friendship, then love."
Moore was the second person to respond to Ramsey's random texts.
"Some girl from Wellington who was pregnant and getting married replied, but he stopped texting her. He was just really bored and it was when you could send as many texts as you wanted for $10," she said.
Moore said technology was responsible for getting them together but also staying together.
The texts between them continued at a rate of about 4000 a month for the next year.
They met for the first time when Moore was in Dunedin on a school trip.
"He picked me up from the backpackers and took me for a tour of Dunedin. I did fancy him, but I didn't tell him because we both had partners then and we were just friends. It wasn't the right time," she said.
The right time came about six months later when both were single. Lloyd sent another text asking if they could go out.
"I said yes... after that we got into a routine every night. I would call him at 7pm. We always found something to talk about even after texting all day," she said.
During their long-distance relationship, Moore sent him a pixt [text photo] every morning. "I would have to get up a half an hour earlier than I had to to make sure I sent him a nice photo. He never sent one back."
After six months of texting, phoning and visiting when they could, Moore decided to move to Dunedin to be with her boyfriend.
However, Ramsey had started working on a farm at Middlemarch, about an hour away.
"I used to get the train from Dunedin every weekend to see him," she said.
The couple then decided to move to Wanaka so they could begin living together.
"But work causes change and I'm in Motueka, he's in Wanaka and I'm missing my man. It's back to texts, phone calls and lots of wishing you were here," she said.
Ramsey's version is close to Moore's, except he said his friend started the texting.
"He started yarning to her and she sounded friendly so I got the number and started yarning away to her. I stole her back," he said.
"And six years later here we are. She's pretty good," he said.
The couple will be spending Valentine's Day together after winning flights through an Air New Zealand Grab-a-Seat promotion to reunite long distance lovers.
* * *
Random texting scores a distant reply
The Herald on Sunday tried Lloyd Ramsey's method.
We sent out "Hi how's it going?" texts to 10 random numbers.
Only one replied and it took seven texts before they asked who we were.
Random number replied within minutes: "Heey. Its good".
HoS: 'What u doing this weekend?'
Reply: 'Not much haa'
HoS: 'Cool u in Auckland?'
Reply: 'No haha'
HoS: 'Ah pity would have been good to meet up'.
Reply: 'Wait, who is this?'
HoS: 'Who is this?'
Reply: 'Tam. Who is this?'
HoS: 'Sorry wrong number.'