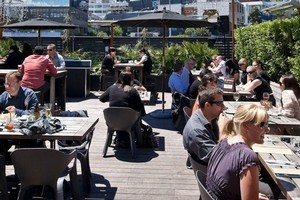 If making conversation when you go out sometimes wears a bit thin, then we suggest you head to the Sale St Shorts - a celebration of 30 years of New Zealand short films being held in the garden at Sale St Bar in Freemans Bay. Owner Luke Dallow has teamed up with film buff Ant Timpson (of 48 Hours and the NZ Film Festival) to put together these special nights which will see a giant outdoor screen set up and the chance to eat, drink, and be entertained by films created by the likes of Taika Cohen (Waititi), Jane Campion, Harry Sinclair and more. Tues 15 & 22 Feb, Tues 1 & 8 March, from 7pm. There's limited space, so book at iticketexpress.co.nz
On the mark
Flying under the radar at the DeBrett Hotel's Kitchen restaurant until he fully hit his straps has been ex-Blanket Bay, multi award-winning chef Mark Sycamore. Mark was appointed head chef halfway through last year and since then he has been quietly and consistently turning out outstanding food in what is surely one of Auckland's most fabulously designed restaurants.
It's a perfect place to dine on Valentine's Day, set under a canopy of stars in the cosy atrium of the hotel. Sycamore has designed a special five-course menu for $99 that is "interspersed with the top aphrodisiac foods but not in a tacky way". And if things get too amorous, you can always book a room at the iconic hotel.
Competitive cooking
There's nothing like a bit of competition to get chefs hot under the collar. The Foodstore Chefs is the newest offering on Sky's Food channel. Based in the Auckland waterfront Foodstore restaurant, it sees Kiwi chefs Wylie Dean and Sarah Primrose and English chef Mark Southern compete to create the best dish with the same ingredients.7.30pm, Monday nights.
Valentine's treats
* Say "I Love You" in nine different languages this Valentine's Day with these fabulous Bennett's chocolate bars. $8.90 each from Farro Constellation Drive or the Bennett's store, Mangawhai Village, bennettsofmangawhai.com
* Buy something gorgeous for yourself and these cute vanilla heart biscuits with raspberry sprinkles by The Caker for your loved one, $6 for two, from Ruby boutiques.
* Light up someone's life with these cute cake candles, 99 cents each, from from Farro Fresh Food.
* We love the look - and taste - of this balsamic two-leaf quality balsamic vinegar of Modena, $24.95, imported by Mediterraneo. For your nearest stockist ph (09) 845 5046 or mediterraneo.co.nz
Win with Viva
Fancy an afternoon drinking champagne and watching the polo? Well, to celebrate the Veuve Clicquot Social Season at the 2011 BMW New Zealand Polo Open, Viva has two tickets to the Veuve Clicquot marquee where the winners will enjoy a light lunch, champagne and a prime view of the action on the field, plus a bottle of Veuve Clicquot Yellow Label. The polo will be held on Sunday February 20 at the Auckland Polo Club, Fisher Field, Clevedon-Kawakawa Bay Rd, Clevedon. To go in the draw, email your name, address, contact phone number and date of birth to vipviva@nzherald.co.nz with "Veuve Clicquot Social Season" in the subject line. Entries close February 14, winners announced February 16. (Conditions apply.)