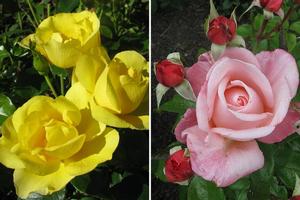 We either love them or loathe them, but on Valentine's Day even cynics need to put aside their prejudices and be happy to receive roses.
Even those tightly curled types with not a whiff of scent, trussed up in cellophane, and which you suspect came from the supermarket around the corner, should be accepted with a smile.
But such roses are only a shadow of what it's possible to grow in your own back yard. The real romantic can give something with the roots still attached so the token of affection lives on and grows better with time.
Roses for the garden have come an awfully long way in recent years. Instead of the bigger, brighter blooms sought a decade ago, today's breeders are focusing on disease resistance, a repeat-flowering habit, and that most potent of rose characteristics - scent.
As a hay fever sufferer, Hayden Foulds may not be the obvious choice to ask about the best sorts to grow. Yet as the keeper of the New Zealand Rose Society's website, his involvement in international rose conferences and trials, and as an avid collector, Hayden has a nose for the top varieties - even if he doesn't like to stick it too deeply into the blooms themselves.
One of the Rose Society's key responsibilities is to hand out its annual international awards for new varieties, which it rigorously assesses at its Palmerston North trials in the Dugald Mackenzie Rose Gardens, maintained by the city council. Each newcomer is scrutinised by an expert panel through two growing seasons.
The roses are sprayed occasionally to keep the gardens in top condition, so disease resistance isn't really tested to its limit. But Hayden says that in practice you can spot a classic in its first year and winners nearly always prove to be excellent garden varieties years after any accolade is forgotten.
It always smacks of cruelty asking any plant fanatic for their favourites but, without hesitation, Hayden names Serendipity as his favourite. "It's an English rose but, strangely, available only over here," he says of this cheerful yellow floribunda. With clustered flowers and bushy, compact growth, floribundas are usually chosen as bedding plants where reliable colour over a long period is important.
Paddy Stephens, Hayden reckons, is one of the best hybrid teas in coral pink, although it lacks any great smell. Its white counterpart Racy Lady is a majestic performer, but if you insist on scent, go for the classic white Margaret Merrill.
David Austin's English roses, with their old-fashioned, ruffled flowers and scent, have become immensely popular and Hayden rates the crimson L.D. Braithwaite and peachy Abraham Darby as among his favourites.
Groundcover roses have changed our perception of roses as high-maintenance shrubs. The Flower Carpet series is well-publicised but Starry Eyed, in an unusual white edged with red, is a tough and striking alternative that needs next to no pruning.
Of climbers, it's hard to beat old favourites such as pink Compassion with its scent and fat bunches of hips in late summer. Yellow Graham Thomas is the best scented yellow for a wall or trellis, but "Golden Future is worth looking out for", Hayden says.
So-called blue roses are nearer a smoky purple. Blackberry Nip and Burgundy Iceberg are deservedly popular and Hayden favours Blueberry Hill. For Valentine's Day, Hayden reckons there is no better red rose than Lasting Love, a hybrid tea from France. The foliage is leathery and shiny - a sure sign of disease resistance - and the colour a deep dusky red.
The crowning glory - and surprisingly rare in a red rose - is its powerful scent.
And for a man who suffers from the sniffles, even Hayden admits he can't help but stick his nose in those richly folded petals.
Rose Society: www.nzroses.org.nz
Kiwi classics
* If you are feeling patriotic, you could easily fill a garden with New Zealand-bred roses. Sam McGredy is our best-known rose breeder. Among his classics are the highly scented Aotearoa, the fragrant white Auckland Metro and our most popular fiery climber, Dublin Bay.
* Other popular reds include Millennium, bred by Doug Grant, and Brian Attfield's award-winning hybrid tea, Sir Tristram.
* Thank You is a pale pink patio variety with old-rose charm. It was bred by Mike Athy. David Benny's Modern Miss is another great pink beauty.
* In Wanganui, Bob Matthews is best-known for his blush pink floriferous floribunda Anniversary.
* Rob Somerfield confirmed his reputation by sweeping the board at the Rose Society trial awards this year. His classics include the compact White Romance and the fragrant Blackberry Nip.
* Nola Simpson of Palmerston North is well known for the earth-toned Hot Chocolate.
Hayden Fould's tips for good roses
* Roses love a good watering in summer to keep the flowers coming. Rather than sprinkling it on regularly, treat the bushes to a full bucketful once or twice a week.
* The best modern roses will succeed without chemical anti-bug sprays. But try not to miss a winter clean-up spray of copper and oil, which will delay the onset of disease next year.
* Mix roses with perennials, annuals and bulbs, especially sorts that will attract insects that eat aphids.
* Pick roses regularly as a natural way of deadheading.