Love is in the air. But Rebecca Lewis asks if you really know your partner.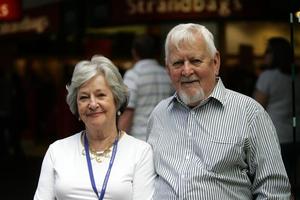 If you thought you were on track for a perfect Valentine's Day today, you might need to think again. Ten simple questions about your partner's life could prove how much - or how little - you really know about your significant other.
A British survey of 2000 men found six out of 10 knew their girlfriend or wife well, right down to their favourite perfume, food and clothes size.
But 12 per cent were unable to recall their partner's eye colour, 10 per cent couldn't remember their birthday and 8 per cent didn't know their natural hair colour.
Couples questioned in Auckland this week were more knowledgeable, but no one scored full marks.
We put 10 basic questions to five couples. Half did not know their partner's shoe or clothing size, and only two men knew their girlfriend or wife's bra size. Everyone knew their partner's date of birth, latest job title, eye colour, natural hair colour and best friend's name.
Perhaps surprisingly, the couple who answered the fewest questions correctly have been married 55 years.
Lennie and Shirley Shore said they found the test a "little bit" tough.
Lennie, 81, didn't know his wife's shoe size, bra size or eye colour, and got only half a mark for saying sushi was her favourite food. The correct answer was seafood.
"It's a little bit hard. But I do know her date of birth and I know that our wedding anniversary is April 15, 1954."
Shirley, 77, who scored 70 per cent, was pleased with her answers.
"Of course I know things like his date of birth, what his job was and that he doesn't bother with cologne," she said. "And I know his favourite food is a murderous curry he invented himself."
The couples who scored highest at 90 per cent each were Matt Unsworth, 24, and his girlfriend Sian Barrow, 25, and Shilpa Maharaj, 19, and Hamish Prakash, 20. Unsworth missed out on Barrow's bra size and she did not know his shoe size.
Psychologist Nathan Gaunt said couples who got answers wrong shouldn't necessarily worry about their relationship. Different questions were relevant for different couples, and older generations may know less about each other than modern couples.
"What is more important is what you know, rather than how much you know," said Gaunt.
"At the most, a test like this might show you have some talking to do. But some people don't connect on that superficial level. Some couples will connect on a deeper, more intimate level and find out the details later."
Christchurch psychologist Dr Alice Boyes said every relationship worked differently but partners should be "checked in" to each other's daily lives. Knowing details such your partner's best friend's name is essential for that.
"In a relationship in which someone feels unconditionally loved and well respected by their partner, the relationship will be able to tolerate him not knowing what her favourite perfume is," said Boyes.
Specific details could be more important in newer relationships. "It may also be that when people are getting to know someone they focus more on these details."