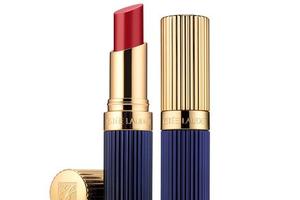 Years ago I came across a pile of unused, old lipsticks in an op shop and was amazed by their staying power. Some were gluggy, pastel things from the 1960s which I soon binned; others were screen-siren red, in a thick, matte formula that once applied wouldn't shift.
They'd be hell to get off a shirt collar - perhaps that's why today's temptresses favour a slick of barely-there lipgloss.
Lipstick, though, is well and truly on the comeback trail, partly because those drying dyes are a thing of the past and modern textures are comfortable and moisturising. This pleasant "mouth feel" has in some cases been at the expense of stickability and so we have seen the development of the long-stay lipstick category for women who can't be bothered with touch-ups.
Long-stay lipsticks have had a reputation for feeling at best odd, at worst drying. Some brands quietly dropped their early attempts at the category. Not all ranges do a long-stay lipstick, but more and more are introducing strongly pigmented conditioning lipsticks that stick around. Counter staff at Clinique rate their newer High Impact lipstick for its staying power as much as their Long Last lipstick so it pays to check out the options to find a texture you like.
Convenience obviously appeals, because the products marketed specifically as long stay tend to be strong sellers, with leading examples being Revlon's ColorStay range, including the reliable Soft & Smooth Lipcolor, Maybelline's Superstay and Outlast from Covergirl, the latter two being more a stain than a lipstick. Like L'Oreal's Infallible Longwear Duo, they have a two-step application where you paint colour on, then, after a short wait, apply a conditioning top coat. I prefer the one-step approach, but if you skip it with these stains your lips will feel in need of nourishment.
Lipglosses have a way to go to fulfil the wear it round-the-clock claims of some, but they too now offer pigment-rich formulas with a lot more oomph than their predecessors. L'Oreal Glam Shine 6H (six-hour) Lip Gloss and Revlon ColorStay Mineral Glaze are marketed as long-lasting, but most brands have improved their wearability. The likes of Lancome's Colour Fever glosses and M.A.C's denser Lipglasses deliver a lipstick-like intensity of colour, but with a lighter feel and a glossier look.
The other development in glosses is a trend to particularly reflective finishes, not just straight shine but a real luminosity, from the likes of Chanel's Intense Radiance Lipgloss, Napoleon Perdis' Luminous Lip Veil and Shiseido Luminizing Lip Gloss. But these aren't generally stayers, and we're concentrating today on showing newer products that go the distance.
Be it vanity or insecurity, I quite like the reassuring ritual of touching up my lippy every so often, but there are times when it's nice to know it will take more than a few sips to shift. For the most lasting result with regular lipstick, use a well-matched lip pencil across your entire mouth, in either your natural lip colour or the same shade as your lipstick. Apply and blot lipstick, then reapply.
Or simply try a long-stay formula. I'm declaring my valentine to be Estee Lauder's brand new Double Wear Stay-in-Place Lipstick. (As to the kissing test, I'm not telling. Try your own).
1 Estee Lauder Double Wear Stay-in-Place Lipstick in Stay Scarlet $54
My new lipstick of choice for a big night out. This has the most lipstick-like feel of all the long-stay formulas I've tested, but is made unique by its satiny sheen. It isn't at all drying and colour retention and lack of bleeding is impressive. Wear is natural, with a slow fade out from the centre of the lips hours after application. In 12 vivid colours, with matching lip-liners at $45.
2 Bobbi Brown Rich Color Gloss in Melon $48
An example of a hydrating, colour-rich, new-style gloss with good shine. Eight varied shades that don't just lick off to choose from, including this summery number and some deeper wintery coatings.
3 Maybelline Superstay Lipcolor $23.49
This doesn't look manky until 5pm, said one of my testers, a busy PA, who thinks the staying power is impressive. Even if it does feel a bit gluey on application and eventually goes a little patchy. Her tip is to keep using gloss over the top to keep it looking fresh.
4 Bare Minerals Lipgloss in Sugar Plum $45
A superior strongly coloured purple-plum gloss that could win over lipstick-only fans. Moist but non-gluggy, all natural ingredients, including antioxidant rich plant oils. For salon stockists, ph (0900) 575 565.
5 L'Oreal Paris Glam Shine 6H Volumiser Lip Gloss in Fuchsia Obsession $29.99
The Volumiser line is an addition to L'Oreal's 6H gloss range. Designed to stimulate micro-circulation for a plumping effect it has a very slight tingling feel and high shine in a stack of colours. Its angled foam tip applicator allows for a neat outline. The company claims it lasts "up to" six hours; that's a stretch under normal wear and tear, but it does doesn't disappear like so many glosses.
6 Becca Beach Tint in Strawberry $55
This little tube of waterproof cream stain can be used on lips and cheeks for a natural looking flush that withstands wear, even a smooch. Use alone or as colour base. It's preservative, paraben and oil-free and contains vitamin E. This berry shade is new to the range. From Glamorpuss, Newmarket or The Department Store, Takapuna.
7 Bobbi Brown Crayon Contour Lip Crayon in Dusky Nude $48
These chubby crayons have been brought into the Bobbi Brown permanent range due to their popularity. They're soft enough to wear alone or as a base for lipstick or gloss. Not especially long-lasting and won't give the same definition as a finer lipliner, but they're an example of a modern formula that feels good on. In eight subtle shades.
8 Revlon ColorStay Ultimate Liquid Lipstick in Top Tomato $29
Revlon has managed to combine a stain and conditioner in the all-in-one ColorStay Ultimate Liquid Lipstick introduced last year and this is my pick of the paint-on products. You can get away without using gloss over the top, which the Maybelline and Covergirl benefit from, plus the Covergirl feels like applying felt-tip pen.
9 Living Nature Lipstick in Summer Wine $38
Staying power is standard, rather than enhanced, but this is included in the column because it is one of the few lipsticks available in a natural range and recently won an international award for this New Zealand company. Delivers a wine-rose colour with a sheer feeling, and good plant oil ingredients. From leading health stores and selected pharmacies.
10 Estee Lauder Double Wear Stay-in-Place Lipliner $45
In 12 shades to tie in with the new Double Wear lipsticks, these liners come with a lipbrush at one end and a sharpener in the box for a precision pout. Feels no drier than a standard firm lipliner, but lasts longer.
Stockists: Brand counters unless otherwise indicated.